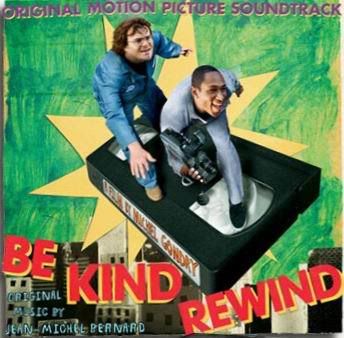 We reported some of the details surrounding the upcoming Michel

Gondry

movie, "

Be Kind Rewind

" soundtrack earlier this year, but now all the

deets

are in.

As previously reported, the score was composed by

Jean-Michel Bernard

(he also did

Gondry's

"Science Of Sleep" and contributed music to "Human Nature") and also features

Mos Def

and

Fats Waller.




The soundtrack also includes songs by

Jack Black,

Billy Preston

(the same song was used in the trailer),

Booker T

, and musical contributions from Michel

Gondry

(who plays drums, most notably in recent years on the

Jon Brion

,

Kanye

West produced track "Diamonds From Sierra Leone").
The film's synopsis from the official site:

A junkyard worker (Jack Black) who attempts to sabotage a power plant that he believes is melting his brain. But when his plan goes awry, the magnetic field that he creates accidentally erases all of the videotapes in a local video store where his best friend Mike works ("Mos Def"). Fearing that the mishap will cost Mike his job, the two friends team up to keep the store's only loyal customer - a little old lady with a tenuous grasp on reality (Mia Farrow) - from realizing what has happened by recreating and re-filming every movie that she decides to rent. From "Back to the Future," to "

Robocop

," to "Rush Hour," to "The Lion King," Jerry and Mike become the biggest stars in their neighborhood by starring in the biggest movies ever made
You'll recall the process of re-making movies is called to "swede" in 'Rewind.' We've got a bunch of the

sweded

trailers, including "

Robocop

" and "

Rush Hour

" at this previous post. Due digitally on January 22, 2008 and physically January 29, 2008 on

Lakeshore

Records (though we're told Amazon might currently be wrong and the release may go 1/22 as well),

you

can hear four songs from the 28-song soundtrack including Mos Def and Bernard's take on the Fats Waller song, "Your

Feets

Too Big" over at the soundtrack's official

myspace

page. The film itself is due in theaters January 25.

"Be Kind Rewind" Soundtrack

tracklist


01. "Your

Feets

Too Big" - Mos Def and Jean-Michel Bernard
02. "Nothing From Nothing" - Billy Preston
03. "I Ain't Got Nobody" - Jean-Michel Bernard
04. "Jerry's

Sweded

Ghost Song" - Jack Black
05. "Microwaves - Jean-Michel Bernard
06. "Train Station" - Jean-Michel Bernard
07. "I Ain't Got Nobody" - Booker T. Jones, Steve Cropper, Donald "Duck" Dunn & Michel

Gondry


08. "Keep Jerry Our"*
09. "Little Mikey"*
10. "I'm Bill"*
11. "Lulu's Back In Town" - Jean Michel Bernard & the

Passaic

High School Marching Band
12. "Chinese Bamboo"*
13. "Magnetic"*
14. "The Animated Lion"*
15. "I Ain't Got Nobody" - Mos Def, Jean-Michel Bernard & Michel

Gondry


16. "Robot Karate"*
17. "Daisy's Drive"*
18. "Plan"*
19. "Blind Test"*
20. "Swing Low, Sweet Chariot" - Fats Waller
21. "Mike Has An Idea"*
22. "DVD Break In"*
23. "Sunny Monday" - Booker T & the

MGs


24. "Ain't

Misbehavin

'" - Mos Def and Jean-Michel Bernard
25. "Solitude" - Jean-Michel Bernard
26. "Lulu's Back In Town" - Booker T. Jones, Steve Cropper, Donald "Duck" Dunn & Michel

Gondry


27. "Your

Feets

Too Big" - Fats Waller
28. "Mr. Fletcher's Song" - Jean-Michel Bernard and Moe Holmes
(*all uncredited tracks,

JM

Bernard tracks)


Watch/Listen:

Fats Waller - "Your Feets Too Big"


Trailer: "Be Kind Rewind" trailer