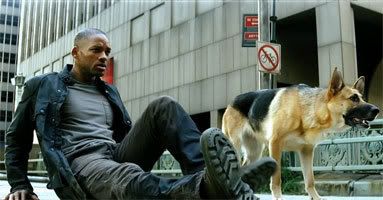 According to nerdlinger film fan site /Film, "I Am Legend" is gunning for a $60 million dollar box office intake this weekend and who knows, sure, Will Smith has a great track record and America sure loves its stunted IQ, blow-em up extravaganzas (Incidentally, we randomly saw "The Pursuit Of Happyness" last night and understand why Will Smith got nominated for a Best Actor Oscar last year, he was excellent).

With that said, I'm sure Mr. Smith or Warner won't mind if we try and swipe $4 bucks from the sure-to-be massive or large box office haul cause "I Am Legend" was ungood to say the least.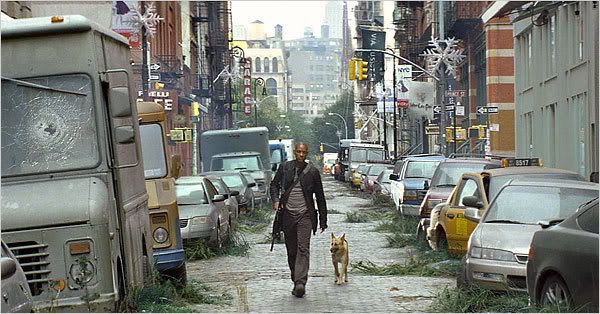 And yes, we understand this sort of film isn't really aimed at us, but we suppose in the comfort of our own home we'll watch things like "I Am Robot," "Bad Boys II," etc. and enjoy them for what they are: popcorn entertainment.

Fine, but 'Legend' can't even provide that, or at least not much of it. Based on the Charlton Heston movie "The Omega Man," the gist of the story is like a poor man's (with an expensive budget) version of "28 Days Later," even though, yes, it came way first (and yes, like every zombie film).


A cure for cancer has been made by an over-eager British doctor (Emma Thompson), but shit goes wrong and it turns into a virus that is infecting people. Rather than turn them into zombies or plausibly fucked human beings, it turns them into blatantly-CGI'd monsters called dark seekers that burn in sunlight and feast on the blood of anyone around them (got that?) Sure, the concept of something like "28 Days Later" isn't much more sophisticated or elegant, but it's all in the execution which is pretty clumsy and silly here.

Will Smith plays a military scientist (or something like that) that appears to on the cover of Time magazine heralded as the one man who can possibly fix this cure and lo and behold that exact same dude is the last man standing! How about that?


Since, there's only one man on Earth (seemingly) except for Will and his trusty German Sheppard Sam, Smith is free to roam and plunder all of Manhattan (his "zone") for all its leftover food, fast cars, resources and other paraphernalia (weapons and whatnot). His apparently huge government salary has left him a huge house near Washington Square Park which is filled to the tits with state of the art technology and a basement laboratory that would make Batman blush (speaking of nerds will get loser-boners over the cheeky reference to a Batman Vs. Superman movie poster in Times Square).

When not ridiculously racing around in a suped-up hot-rod trying to hunt deer for food with an high-powered machine gun, Smith spends his days trying to capture infected rats and complete his quest for the ultimate cure. Are you bored yet? We are just typing this.

Then he tries to capture infected zombies and bring them back to life, yadda, yadda, god, it's just so trite and hackneyed. Nothing feels remotely believable or credible. It's a fantasy with no escapism to it.

The most impressive thing about 'Legend' itself is Manhattan, whose abandoned shell almost plays a central character in the film. It's empty streets grown over with grass, moss and wildlife is a pretty amazing spectacle to look at and provides the only 'how the hell did they do that?' questions and interesting moments.

No doubt this movie is expensive as shit, but they must have spent it on the CGI-clearing of streets, cause it's surely not spent on the aggro dark seeker zombies that look stupid and fake. The movie is somewhat scary, but it's that annoying drawing-out-the-tension in the most manipulative and stock ways that eventually leave you exhausted and frustrated (the unclever ways of creating tension essentially). Movies of this genre have been made before with greater success, but this one just feels absurd and preposterous. Fuck, it's not even fun.

The music connection here (not that we need one) btw, is the fact that former Faith No More/Mr. Bungle frontman Mike Patton was hired to create the sounds of the dark seeker creatures. Even his freaky shrieking and ghoulish growls can't save this hunk of dung. Oh yeah, the movie uses a lot of Bob Marley as a motif from the album Legend, get it? Get it?? Barf (but yeah, most of it is typical score music).

Whatever, we've already spent way more many words on this movie than it's worth. Do yourself a favor, go see something else. [C] [ed. Francis Ford Coppola's "Youth Without Youth" comes out this weekend in limited release, you should have spent your breath on that instead.]

In case you care: next week, reviews of "Walk Hard," There Will Be Blood," and hopefully, "The Kite Runner" and "Atonement" should we have time to watch them this weekend.