Ralphie

as Adult
: [narrating] Now, I had heard that word at least ten times a day from my old man. He worked in profanity the way other artists might work in oils or clay. It was his true medium; a master. But, I chickened out and said the first name that came to mind.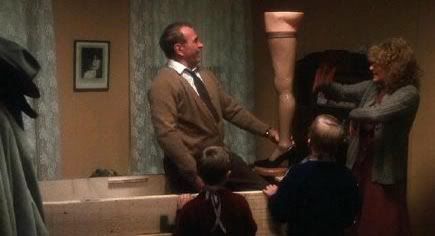 We've literally seen "A Christmas Story" over 100 times (at the very least). And we've practically seen it three times a Christmas for the last 5 Christmas' (it's ALWAYS on, especially in Canada; no joke it's on about 5 different channels as we speak). We should get a major award for that.
Ralphie

as Adult
: [narrating] Only one thing in the world

could've

dragged me away from the soft glow of electric sex gleaming in the window.
We wanted to ask, when did this film become a hip cultural reference though, 7-8 years ago? 10? Less? It strikes me as slightly odd only because it was a huge childhood staple for me and my little brother. So many specific references from my childhood. We suppose this this is not a unique experience hence the cultural phenomenon that's happened to many of our generation.

Anywoo

, we digress. Deck the Halls with

Ovaltine

,

ok

? Fa-Ra-Ra-Ra, Ra-Ra-Ra-Ra.
Ralphie

as Adult
: [narrating about diving with his brother into the gifts under the Christmas tree] We plunged into the cornucopia quivering with desire and the ecstasy of unbridled avarice.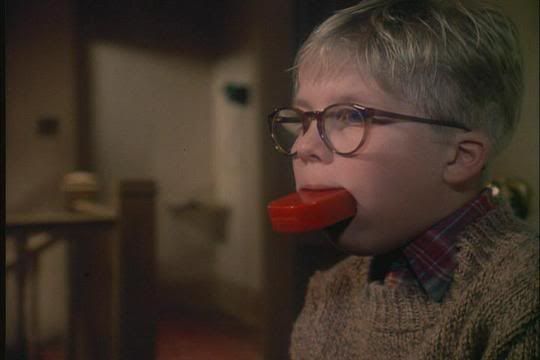 Did you know

Ralphie

(Peter

Billingsley

) grew up to be film producer and is fast and tight friends with Vince Vaughn and Jon

Favreau

?
Billingsley

produced the very-excellent, but short-lived

IFC

show "Dinner For Five" that

Favreau

hosted in different L.A. restaurants with other indie-minded Hollywood actors. He also co-produced the Vaughn/

Favreau

vehicle "Made,"

Fav's

"

Zathura

: A Space Adventure" and is executive-producing "Iron Man." As an actor he appeared in "Elf" (also directed by

Favreau

) and most recently in Vince Vaughn's "The Break-Up" (which nobody realizes was sort-of-scored by Jon Brion - although he was apparently hired at the last minute and only really contributes some small

repetitive

incidental music, the film's theme).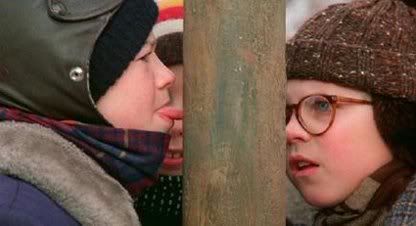 There were rumors that

Ralphie's

pal Flick (Scott Schwartz) went on to become a porn actor in his adult life, but he mostly acted as a non-sex porn actor (yeah, his career had gone so low) in adult films.He also apparently did managerial work for actual porn actors. He left the porn industry in 2000 to get back into mainstream acting, but hasn't really made anything of note yet. He also famously played an excellent brat in the 1982 Richard Pryor film, "The Toy."

Sadly, "A Christmas Story" director Bob Clark tragically died earlier this year; the victim of drinking and driving accident. Darren

McGavin

, the genius actor who played

Ralphie's

dad sadly passed away in February of 2006. Next year, the film will celebrate its 25 Anniversary. We're all getting old.
Watch: Bunny Suit Scene
Watch: The Unveiling of the Fra-gee-lay Leg Lamp