Paul Thomas Anderson

and

Daniel Day-Lewis

were recently on "

The Charlie Rose Show

" for an in-depth hour chat about "

There Will Be Blood

."

There weren't any

major

revelations dropped in the interview, but it is worth watching in its entirety. Day-Lewis has an fascinating way of answers - not in a way that's totally evasive, but a manner that's... fumbling around for the answers himself and a bit of self-preservation. He also talked about being sad to leave the character he played, Daniel Plainview - a character he sees having a great sense of humor (for a tyrant).

PTA wisely didn't really want to pull back the curtain and fully discover DDL's legendary acting process and immersion - he liked the mystery to it. Due to the process of discovery and tracking down funds, DDL was free to work on the Daniel Plainview character for two years. In an interview we read somewhere, PTA says DDL's "simmers" for years on a part than "explodes" it all on set.

The notoriously picky Daniel Day-Lewis said he read the 'Blood' script went it was sent to him immediately because it was "from him," he nodded to PTA, silently showing off his great respect. Watch the show, it's great.

A great quote about what compelled DDL to take the part from ComingSoon.net.

Day-Lewis: The challenge, I dare say, is the same as it always is, which is to try and discover a life that isn't your own. Plainview, as he came to me in Paul's beautiful script, was a man whose life I didn't understand at all. It was a life that was completely mysterious to me and that unleashed a fatal curiosity, which I had no choice but to pursue.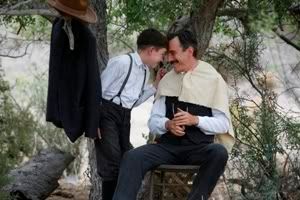 An amusing anectode from the L.A. Times.

Q: So how did you two get together to make this movie?
Anderson: I knew through the grapevine that Daniel had liked "Punch-Drunk Love" a lot, so I felt confident enough to ask him to read the script I was writing. It worked out really nicely just because our lives were at a good spot. He was ready to work and I was in New York at the same time he was in New York. So, long afternoon walks and really good breakfasts.


Day-Lewis

: We really tucked away some ham and eggs
Meanwhile, remember when the "There Will Be Blood" script surfaced online earlier this year (way before the film had been released)? Well, it's back on Paramount Vantage's For Your Consideration page.
We loved 'Blood,' and think it's certainly one of the year's best films. You can read our glowing review here.

Also of note, longtime PTA friend and collaborator

John C. Reilly

talked his way out of being in 'Blood.'

"Paul and I talked a lot about it," said John C. Reilly, who calls Anderson a close friend. "He wrote me a part for the movie, and I said, 'Don't put me in there just because you think you have to, because we're friends. Put me in there if I'm the right guy to be in there.' And he thought about it, and he was like, 'You know what? You're right. You just talked yourself out of a part.'"
Last but not least, there's going to be 14 midnight screenings of 'Blood' in a few major North American cities on December 29. To promote these screenings Paramount Vantage has uploaded a deleted scene from the film onto YouTube