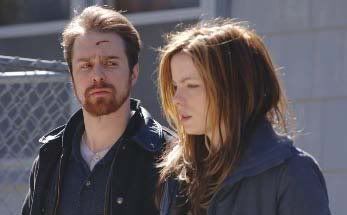 Ok, first things first. The National's "Slow Show" is a great song and all and it fits rather perfectly in this trailer, but the song is not featured in the film. More on that in a sec.
"Snow Angels" is kind of a Christmas-y title, right? But yeah, the film is nothing like that, in fact it's rather dark and bleak (but also surprisingly funny). Directed by lyrical, indie-director David Gordon Green, "Snow Angels" is due March 7 in limited release and stars Kate Beckinsale and Sam Rockwell as one estranged couple at the center of many interweaving relationships, both collapsing and ascending.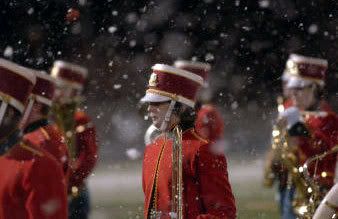 Early followers of The Playlist, will recall we caught a sneak preview of the film at BAM's Sundance festival back in May of this year. We weren't huge fans of the experimental misfire that was Green's "Undertow" (though we suppose we appreciated the attempt at a stylistic makeover), but we can say first-hand that 'Angels' was a nice return to form that branched out enough to not just be an ambient, lyrical indie rehash.
The film also stars Michael Angarano ("Lords Of Dogtown") and the very excellent and upcoming actress Olivia Thirlby (Ellen Page's sidekick in "Juno")

Longtime collaborator David Wingo (of Ola Podrida) and his new music partner, IDM artist Lusine (aka Jeff McIlwain), and their understated score continues Green's penchant for plaintive and simple beautiful acoustics only now augmented by subtle electronic twinkling and ambient washes (a Wingo/McIlwain track is on the latter's myspace page - it's unclear if this is a song from the film or an unreleased collab, we can't remember the music that far back).

"Snow Angels" features tracks by Bread, Japanese post-rockers Mono, the Godspeed You! Black Emperor offshoot, A Silver Mt. Zion and Explosions in the Sky whose song, "What Happens After," was the only track written originally for the film. North Carolina trip-hop/dub artist Uno Dose has three songs featured in the film and his track, "New Orleans Slaughterhouse" can be also be heard on his myspace page. What's gonna be on the actual soundtrack? Probably too early to tell, but for a potential guide of what will be on it, here's all the music used in the film.

Entire List of songs used in "Snow Angels"
"Sledgehammer" - Atlantic Region Cadet Tri Service Band
"Chinese Character 1"- John Leach
"The Now Penguin"- Mt. Egypt
"Higher" - Harem Scarem
"In The Heart Of The West" - Gene Autry
"4 Robots Fucking In A Wool Sock" -Uno Dose
"You, Me, And A Glass Of Chablis" -Alan Zahn and Dan Lindau
"Will I Ever Get Back Home Again" -Little Axe
"Chinese Character 2" - John Leach
"Lovely Dub" - Uno Dose
"New Orleans Slaughterhouse" - Uno Dose
"Jasmine Night" - Josh Crocker
"I Think I Left A Note" - Benji Hughes
"A Thousand Paper Cranes" - Mono
"Baby, I'm A Want You" - Bread
"This Gentle Hearts Like Shot Bird's Fallen" - The Silver Mt. Zion Memorial Orchestra and Tra-la-la Band
"What Happens After" - Explosions in the Sky
Watch: "Snow Angels" trailer

Watch/Listen: The National - "Slow Show" (to a fan-made video of Jean-Luc Godard's "Masculine-Feminine")

Download: Mono - "Thousand Paper Cranes"
Download: Explosion In the Sky - "First Breath After Coma"
Download: A Silver Mt. Zion - "This Gentle Hearts Like Shot Birds Fallen"
We would be remiss if we did not mention our "If I Were David Gordon Green" soundtrack playlist.