Who is Lil' Nutsack? Chances are you don't know him quite yet unless you've seen "Walk Hard: The Dewey Cox Story," already (which we have - our review next week).

Without giving too much away, Nutsack - as we've already mentioned - is a rapper who much later in Dewey Cox's (John C. Reilly) career (basically when he's retired, near the end of the film), samples "Walk Hard," for his filthy hip-hop single, "(You Make Me So) Hard," making Dewey relevant again and introducing his music to a whole new generation of kids (which leads to Dewey's introduction in the Rock Hall of Fame - again, if you've been reading us, we're not giving away anything that us and 10,000 other sites haven't already said as well).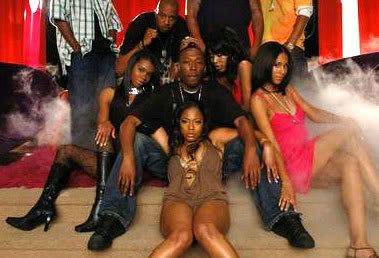 Nutsack is actually really Cali-based rapper KU a.k.a. Kustoo (pronounced koo-sto), whose influences range from Ice Cube and Tha Alcoholiks, to Run DMC and Grand Daddy I.U. Apart from appearing in 'Walk Hard' as the rapper Nutsack, KU's other movie work has seen him place three songs and become hired as the hip-hop consultant/coach and in the upcoming March 2008 Judd Apatow comedy "Drill Bit Taylor" starring Owen Wilson. He's also placed music in television shows ("What About Brian", Lifetime's "State of Mind") and video games for Sony Playstation. Ku's debut album Before The Hype came out in April 2007 and you can hear lots of cuts from it on his myspace page.

We have the full video for the song briefly seen in the 'Walk Hard,' film plus an audio clip of the entire song from the expanded Deluxe version of the 'Walk Hard' soundtrack.

Lil' Nutsack - "(You Make Me So) Hard"