Apparently when "The Go-Getter" director Martin Hynes asked Deschanel (who stars in the film) to duet with M. Ward and cover Richard and Linda Thompson's "When I Get To The Border," they hit it off and from there, their collaboration grew organically.

From the Vanity Fair Movies Rock issue:

When Deschanel mentioned that she wrote songs, Ward asked to hear them. "I was amazed by the quality," he says, and soon he was producing her debut album, which is expected early next year. It was a nice change of pace for Deschanel, who has been cast in M. Night Shyamalan's next movie, 'The Happening', and recently starred alongside Brad Pitt in 'The Assassination of Jesse James by the Coward Robert Ford' [ed.where she sang briefly]. "Making a record is like tennis," she says. "Making a movie is more like capture the flag."
Ward told the A/V Club that he finished working on her record back in May, so they're probably just waiting to announce a label and firm up a concrete release date. Deschanel also appears on two tracks ("Slowly" and "Ask Her To Dance") from Jason Schwartzman's band Coconut Records album Nighttiming which came out earlier this year.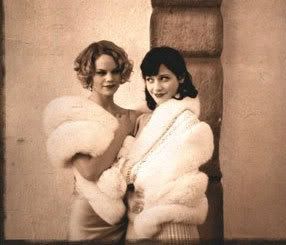 In the meantime, we've come across more mp3 tracks of Ward And Deschanel's collaborations. Meanwhile, "The Go-Getter" myspace page, the only place to seemingly get info on the release of the Sundance 2007 has been quiet since May. Deschanel's cabaret act, If All The Stars Were Pretty Babies (with Samantha Shelton) is still active.

Download: She And Him (M.Ward and Zooey Deschanel - "Sentimental Heart"
Download: M.Ward And Zooey Deschanel - "Bring It Home To Me" (Sam Cooke cover)
Download: Zooey Deschanel & Leon Redbone - "Baby, It's Cold Outside" ("Elf" soundtrack)
Zooey Deschanel & Samantha Shelton - "Stormy Weather"