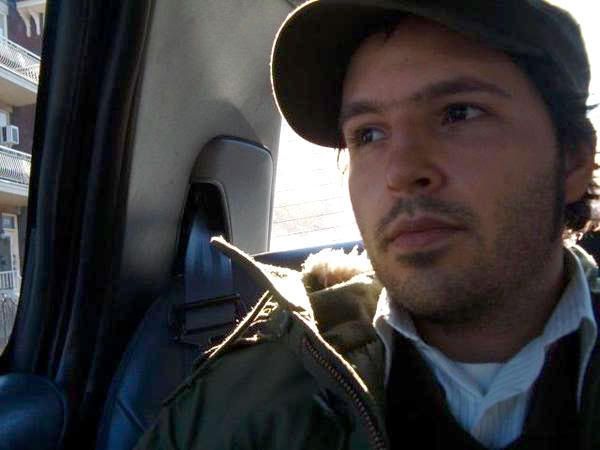 The Playlist is a consortium of royal wes run, written and comptrolled by Rodrigo Perez and Rod Perez and johnypants and P-rez and all the other ridiculous nicknames he's been given over the years.

A former film school graduate and then MTV News writer/producer and graphic designer, Perez has written for SPIN, Pitchforkmedia, Complex, The Fader, CMJ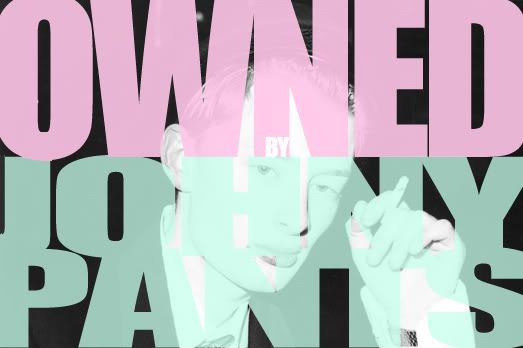 and probably other places not worth mentioning and or too embarrassing to note. The Playlist is also the name of a zine that Perez was an editor and founder of from 2000-2003 with his friend and former roommate Angelo Colussi (that was occasionally joined by other contributing friends). This cheeky E-zine was pre-blog era and then when blogger culture came to pass Colussi and Perez were tired and hungry. The Playlist then, was essentially a snarky music email spam that acted as a sendup and celebration of all things music (or indie music, or the music we liked which one could say was indie-esque, even, dare we say it Pitchforkian in its eclecticism and short-sightedness). One such example is here.


The Playlist blog slightly deviates from that path and focuses on Perez's myopic passion for music related to films, scores, soundtracks and that sort of peripheral nonsense. The Playlist blog also is a place to host Perez's semi-notable Directors Soundtrack Series where he picks a notable film auteur and then creates an imaginary soundtrack using all the mp3s he has stolen online over the years. They are quite tasty! Drop him a line and get him to get in fucking gear and make a new playlist already. It's been months since he's created one (coincidentally around the same time the Playlist blog launched) and you desperately want to hear If I Were Ron Howard.

In its first few months of existence, starting in April of 2007, The Playlist was routinely ignored by the media and in
ternet-going audience, but as of late this has begun to slowly change because we've been paying people to come to the site and begging uncles and cousins to keep refreshing the links we send them that they never bother reading.

New York Magazine recently noticed that we had noticed their piece on Lily Allen and excerpted some quotes from the piece. In the July issue (with Katie Couric on the cover), they excerpted our quote about their quote and we all went further down the wormhole of mutual appreciation society asskissing (we called Lily Allen an "adorably uncensored pottymouth," and I suppose they
found this somewhat amusing in their "what people are saying about our content" comments section). You'll have to click on photos to enlarge them.

Slightly before that The Playlist broke a story about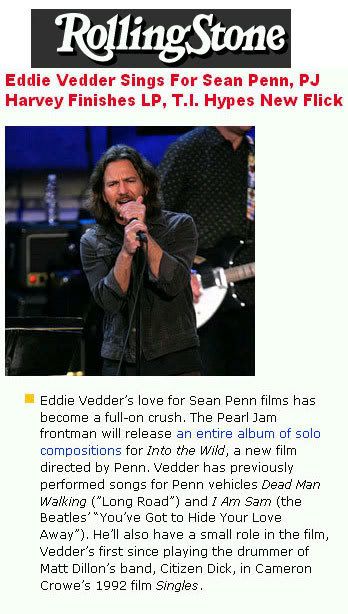 Eddie Vedder composing original songs for the Sean Penn film, "Into The Wild." We incorrectly speculated that Vedder might have a small cameo in the film, but
the press took that as verbatim and reported it as such in their headlines (Silly real media, if we're not 100% sure, we're not going to put it in our headline unless it's speculative with a question mark. Isn't that nice?). Many others sources reported our exclusive including aging rock magazine Rolling Stone and the eye-roving hyper-aware news aggregate the
Daily Swarm.

The Swarm and the eclectic hipster magazine The Fader also recently took note of our extensive coverage on the Bob Dylan film, "I'm Not There" and its accompanying soundtrack which features many indie-rockers like Yo La Tengo and Sonic Youth attempting their own unique interpretations of classic Bob Dylan songs. The Fader called us "thorough" as we painstakingly collated a shit ton of information from the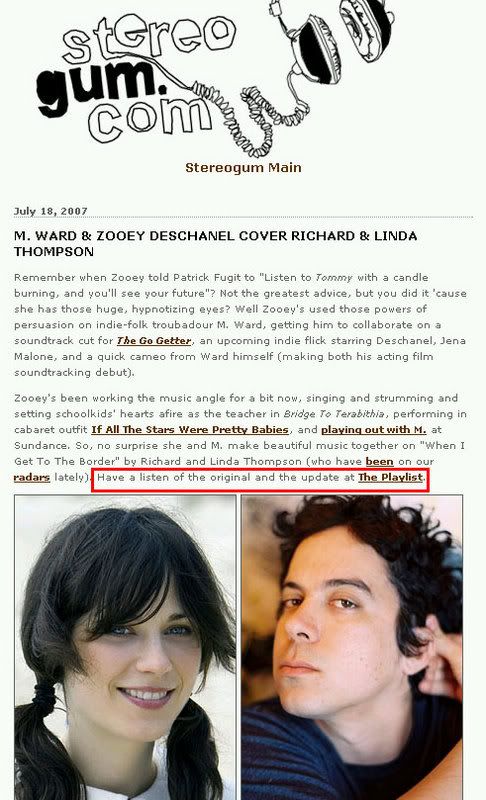 interweb and we blushed that someone took the time to give a rat's ass about what we had to say.

The congenial indie-rock enthusiast blog, Stereogum recently noticed that we had written about "The Go-Getter" soundtrack composed by M.Ward that featured his duet with darling cutiepie actress Zoey Deschanel and their take on the classic Richard & Linda Thompson cover, "When I Get To The Border."

Finally, the L.A. Times noted our rather extensive coverage of Spike Jonze's "Where The Wild Things Are" and the fact we first revealed that Karen O of the Yeah, Yeah, Yeahs, was composing the soundtrack.

They wrote: "[That info] already leaked, via movie and music blog the Playlist, that the Yeah Yeah Yeah's Karen O would have some participation in the music for the film. Having the opportunity to recently speak to Cox, the score was one of my main topics of concern, especially as "Wild Things" has been subject to a bevy of rumors about production problems and re-shoots (the Playlist, again, has done a bang-up job keeping track of all of this). "


MTV News has noticed our reporting a few times as well. Update: Blender scribes tell friends of ours that we've been listed in their magazine, but we've failed to find proof. However, Rolling Stone featured us within the pages of their magazine recently. And "techmology" titan Wired magazine featured us in the November, 2008 issues, quite the coup, no?

We imagine in the future other publications may notice our tireless efforts to blog about every time Todd Solondz farts in the wind and Cat Stevens wants to write a song about it and we're grateful that these people may indeed exist.

The Playlist is semi-retarded and would love HTML/blogger assistance and font-challenged sections of our navigation. If you have any tips for those as well as tips for making the "Read More" expandable/contractable posts on our site actually work, please feel free to email us.

The Playlist and its founder Rodrigo Perez are hoping to sell out as soon as possible.
Download: The Monks - "Please Shut The Fuck Up Rodrigo Perez" (aka "Shut Up")