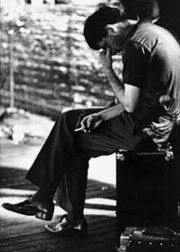 The long-awaited Ian Curtis biopic, "Control," directed by gargantuan dutchman, U2 confidante Anton Corbijn, has leaked its first alleged soundtrack song (Music Slut). Unfortunately it's a Killers rendering of Joy Division's "Shadowplay" and by that token, it's naturally anemic as hell (Why the Killers? Corbijn shot their Sergio-Leone-like "All These Things That I've Done" video and dour, JD-esque press photos for the not-so-well-recieved Sam's Town and is apparently quite taken with the young Vegas-based Mormons). According to Idolator, the Killers' cover plays over the film's closing credits (though this is not sourced anywhere).

Way to tribute your deceased pal, Anton. Corbijn, who made his name as a rock photographer (bestowing iconic looks and photos for U2 and Depeche Mode thus gaining him VIP status in their inner sanctum's) was one of the first photographers to shoot Joy Division and became pals with the late Curtis (he basically moved to the U.K. from the Netherlands cause he loved JD so much). The film is his "labor of love" and he once told MTV that he won't care if he "never directs another film," after 'Control.' In fact, according to a Danish TV interview with the director (see below), Corbijn paid half of the budget - 4.5 million Euros -- out of his own pocket.

According to the always-helpful and often unreliable Wikipedia, New Order will compose the score to the film (or will they? see below), recording new songs and re-recording classic JD songs (anyone who remembers their Jimmy Kimmel performance of "Love Will Tear Us Apart" has now become physically uncomfortable at the mere thought). Other groups that have purportedly been approached to write music for the film are U2, Depeche Mode, Autolux and the Doves. Rumors have it as: the Cure, Bauhaus, the Creatures, David Bowie, and Iggy Pop. According to SPIN, "Control" is due in September in the U.S.

Six Degrees of Joy Division
The film, which premiere at Cannes next month, is based on the book "Touching From A Distance," by Curtis' widow, Deborah, who will be played by Samatha Morton (who was used in the Corbijn-directed U2 video, "Electrical Storm"; see how it ties together in a bow so nicely?). Ian will be played by relative-newcomer, Sam Riley (who played Mark E. Smith in "24 Hour Party People"; who is producing 'Control'? None other than 'Party People' meta-narrator, recent cancer-sufferer and JD, Factory records impressario Tony Wilson. Don't you love the connections?)

New Order Upset?
According to Gigwise, blue-collary New Order bassist, Peter Hook told Channel 4 (the British only have 4 TV channels, ha ha) that he's upset over how controlling (get it? ;) Corbijn is over the soundtrack.

"I'm pissed about the movie right now because Anton Corbijn seems to be getting too much control. I would have preferred that he showed more respect for us. That's what he should do. Anton is too passionate about the movie but I think he should have a wider view. At the beginning he would say, 'Come everyone to help,' but now he closed the doors and sent everyone to piss off! We're supposed to (do the soundtrack) but the problem is that he's telling us what to do. If we don't tell him how to direct, why is he telling us how to make music? Bernard (Sumner) and Stephen (Morris) seem to be OK about it but it bothers me a lot."
[3]
Download:
The Killers' - "Shadowplay"
Watch:
Joy Division - "Shadowplay" (YouTube)
Anton Corbijn talks "Control" to Danish TV