Well it wouldn't be a Playlist Saturday without an update on the Todd Haynes directed, Bob Dylan biopic "I'm Not There" update, right? Another inside source enjoying our blog, has let us know that when we originally reported 34 tracks and speculated the soundtrack would be 2-disc set, we were correct.

Our last update had what we assumed was the soundtrack's final 33 songs (though as we stated earlier, no we don't believe the tracklist will actually be alphabetical) so we thought our original source was bad at arithmetic. However, the missing 34th track is John Doe (ex of X) doing a second cover, "I Dreamed I Saw St. Augustine" from 1967's John Wesley Harding.

Another big question we had was the identity of The Million Dollar Bashers - the band that backs a multitude of the artists covering Zimmy songs on the soundtrack, including Eddie Vedder, Karen O, Stephen Malkmus and Tom Verlaine (ex of Television).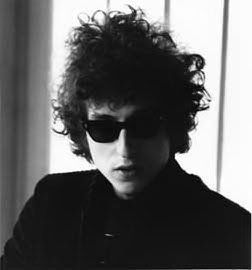 Considering it has already been reported that Malkmus' sessions were recorded with Sonic Youth's Lee Ranaldo and Dylan bass player Tony Garnier, we figured these two were involved. Turns out we weren't far off the mark. Our source also revealed the band's membership which includes the aforementioned Ranaldo and Garnier, plus Sonic Youth drummer Steve Shelley, Verlaine, keyboardist John Medeski (from Martin, Medeski and Wood), guitarist Smokey Hormel (onetime Beck guitarist, Smokey & Miho) and Wilco avante-guitarist Nels Cline.

In related news, is a video being shot for a single on this 2-disc soundtrack set? A post on Craigslist, is currently searching for Bob-Dylan look alikes for his new video. Is the title track, "I'm Not There" becoming a video? Sounds like it could be and would make sense. The video shoot takes place Tuesday August 14, someone should report back. Rolling Stone saw a sneak preview of the film and while our preview had some of the same stuff, they reported that Sonic Youth's version of the titular track plays over the film's closing credits. Those of you reading involved in the film (and we know you're out there), we would like to see it soon too.

Also, what appears to be a fan made trailer is making the rounds, but it's just cobbled together with footage from "Velvet Goldmine," and "Brokeback Mountain." Doesn't look official in the least,