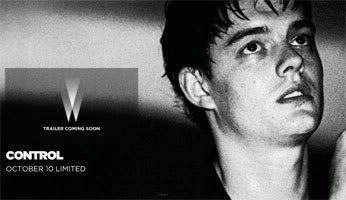 Tracklists are springing crazy leaks today. First it was the 'Darjeeling Limited' and now Anton Corbijn's "Control."

The soundtrack tracklist for the Joy Division biopic has been leaked via a fan made Myspace page. Though what's making it to this movie isn't a huge revelation, the songs used in the movie have been floating around for sometime (though it was an impartial list).

As we noted, the list off songs originally posted by the fan Joy Division site was missing David Bowie's "Warsawa", and the tracklist reveals what we knew, but had failed to yet post (stupid, we've seen the movie and were saving it for our review. So yes, this confirms that this tracklist is likely totally legit.), Kraftwerk's "Autobahn," and the Dutch prog-rock band Supersister track "She Was Naked" (Corbjin has to get some heritage in there somewhere, right?). As rumor goes, the soundtrack is due October 1 (but that's a Monday, so if that's correct, that's the British release date and the U.S. date would likely be October 2).

The New Order songs on the CD "Exit," "Get Out" and "Hypnosis," are apparently three brand new songs originally composed for the film. Yet another trailer is up on Yahoo UK, which is not tremendously different than the five other trailers out there (though this one doesn't have French subtitles on it).

The official "Control" site is up now as well.

"Control" Soundtrack
01. New Order - "Exit"
02. The Velvet Underground - "What Goes On"
03. The Killers - "Shadowplay" (Joy Division Cover)
04. The Buzzcocks - "Boredom" (live)
05. Joy Division - "Dead Souls"
06. Supersister - "She Was Naked"
07. Iggy Pop - "Sister Midnight"
08. Joy Division - "Love Will Tear Us Apart"
09. Sex Pistols - "Problems" (live)
10. New Order - "Hypnosis"
11. David Bowie - "Drive In Saturday"
12. John Cooper Clarke - "Evidently Chickentown"
13. Roxy Music - "2H.B."
14. Joy Division - "Transmission" (Cast Version)
15. Kraftwerk - "Autobahn"
16. Joy Division - "Atmosphere"
17. David Bowie - "Warszawa"
18. New Order - "Get Out"

Download: Joy Division - "She's Lost Control"
Download: Joy Division - "Atmosphere"
Download: The Killers - "Shadowplay"
Download: David Bowie - "Warszawa"