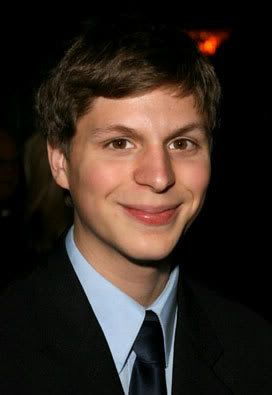 Have you heard of the new Michael Cera's (George Michael from "Arrested Development," "Clark And Michael") new movie "Nick and Nora's Infinite Playlist"? Now you have (that was easy, right?).

It's directed by Peter Sollet ("Raising Victor Vargas"), co-stars the very cute Kat Dennings (from "40 Year-Old Virgin"; she's currently rocking South of Heaven which is pretty grand) and is shooting here in New York as we speak.

The synopsis at the characteristically incorrect Hollywood.com (they still list the Weitz Brothers -- "About A Boy" "In Good Company" -- as the directors) says:

"A drummer and the best friend of the girl Nick just broke up with go through many twists and turns in one evening in New York," which isn't far off the mark from the book's premise of vulnerable teens meeting at a chaotic rock club. So it's ripe for musical connections, right? Right.

Anywho, the punkguy is working on the film, and he's letting the interweb know that the movie will boast performances by indie-rockers Bishop Allen and Brooklyn electro-indie duo Project Jenny/Project Jan. He says the film will feature "real NYC indie rock bands" and hints that the aforementioned are bands are all he can announce so far (so more coming).

There's also an opening casting call for this Saturday (tomorrow) which he's been promoting, so if you want to be in the film, read more about the details on the when and where on his blog. They're looking for "young men and women (to play 18 – 30) to play punk rockers, rock n' rollers, goth types, hipsters, indie rockers and any alternative music fan (Mohawks, piercings, liberty spikes, tattoos are all plus)."

We'll be curious to hear who else gets announced as participating in the film.

Thanks Sub.