What's this? Now we're blogging about this thing? Yeah, well a) our Boycott "Cloverfield" campaign came way too late, b) there's nothing we can do to stop this juggernaut and c) our causa causans is reporting music in films, no?

So yeah, "Cloverfield" the monster movie. There's not really a soundtrack? Yes and no. The film starts out with Rob's "goodbye party" (he's leaving for Japan - the place where monsters come from - if you haven't already heard a trillion times) and there's many a quick snippet of a song being dj'd at his potty including songs by Jason Schwartzman's Coconut Records project, Spoon (as we mentioned yesterday), Kings of Leon, Gorillaz, Ratatat, Of Montreal, Bright Eyes and more. We got a CD, but as far as we know there won't be an official soundtrack disc and this was just a promotional item as part of the myspacey campaign.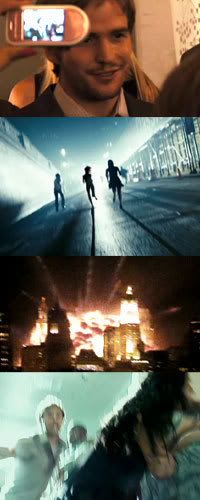 The list looks like this and is basically all the "songs" in the movie. There's a little bit of score here and there, but it's mostly the sounds of explosions, screaming, monster whale-grunting and our eyes rolling far back into our head.

Rob's Party Mix - The Unofficial Cloverfield Soundtrack
Coconut Records - West Coast
Kings of Leon - "Taper Jean Girl"
Sean Kingston - "Beautiful Girls"
The Blood Arm - "Do I Have Your Attention"
Scissors For Lefty - "Got Your Moments"
Parliament - "Give Up the Funk"
Gorillaz - "19-2000"
Spoon - "The Underdog"
Moby - "Disco Lies"
Kings of Leon - "Pistol of Fire"
Architecture in Helsinki - "Do The Whirlwind"
The Black Keys - "Grown So Ugly"
Bright Eyes - "Four Winds"
Joan As Policewoman - "The Ride"
Ratatat - "Seventeen Years"
Of Montreal - "Wraith Pinned To The Mist and Other Games"
Mucc - "Fuzz"

MTV's Kurt Loder makes us laugh when he describes the opening party scenes in the movie. "It's unfortunate that this sequence goes on for 20 minutes; it's too long, and it gives us too much time to become annoyed by the partygoers' abrasive bonhomie, and to wish that a colossal prehistoric lizard of some sort would stomp onto the scene and squash most of them like sand fleas." Ha ha.

Indie-rock is becoming so ubiquitous in films it's getting that places like Pitchfork, Stereogum, et al., will no longer need to write, "OMG, THEY'RE USING OUR MUSIC IN THIS FILM!" anymore cause apparently indie if officially mainstream and soundtrack supervisors are all early 30-somethings with an E-Music account.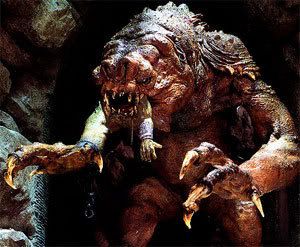 "Cloverfield" is expected to trounce the competition at the box-office this weekend with projections as high as $40 million. Le sigh... We saw it last night. It wasn't as bad as we thought. Basically it's like an emo-myspace video about faux-hipsters (think bridge-n-tunnel weekend crowd) meets "The Blair Witch" nausea-cam meets Godzilla and every other movie that tried to destroy New York City. It's a thrill ride and a decent, entertaining one; nothing more, nothing less. Also, it's laughable and ridiculous, but if you like this sort of thing, it will probably do the trick for you. You barely see the monster. We assume that's the director that no one cares about (Matt Reeves, not JJ Abrams, he's only the producer/mastermind) attempt at being "Jaws"-like (also, all the budget goes into explosions, so you can't have that much monster).

We will say garbage like "I Am Legend" makes "Cloverfield" looks like Fellini, so that's something positive, but that's as much of a review as you're going to get from us. But a hearty fuck-you still goes out to every bleating sheep-blogger out there.

Meanwhile, the New York Times calls it, "nominally a monster movie, but mostly it's a feature-length gimmick."

Download: Coconut Records - "West Coast"
Download: Architecture in Helsinki - "Do The Whirlwind"
Download: Kings Of Leon - "Taper Jean Girl"