Have you heard of the film "

Choke

"? The film adaptation of the Chuck

Palahniuk

novel of the same name is on our most anticipated films of '08 piece we have yet to write
(

Palahniuk

wrote a little book that was made into a rather popular cult-film called "

Fight Club

").

Directed by actor/filmmaker

Clark Gregg

(he was great "

In Good Company

"), the film stars Sam Rockwell, Angelica Huston, Kelly

Macdonald

, Marley Shelton
and Gregg himself. The film and novel are about a sex-addicted con-man who pays for his mother's hospital bills by playing on the sympathies of those who rescue him when pretending to choke to death.


We've never read it, but it's apparently as dark, twisted and funny as "Fight Club."

The film is shaping up to have a pretty decent soundtrack too and will feature songs by a little band called

Radiohead

("Reckoner" from the recently released

In Rainbows

),

Clap Your Hands Say Yeah!

("Satan Said Dance"),

the Fiery Furnaces

("Navy Nurse"), Ben

Kweller

("The Rules"),
Greg

Dulli

's (

Afghan Whigs

) newest group

, the Twilight Singers

("
There's Been An Accident")
and

Rogue Wave

's "Lake Michigan," which will play out in the film's final credits according to the film's music supervisors Lyle

Hysen

and Ken

Weinstein

.


Alap

Momin

(a.k.a. The

Oktopus

) from the

outré

New Jersey hip-hop group,

Dälek

also scored one musical cue in the film.
The movie's score was written by indie-rocker turned film composer

Nathan Larson

ex of

Shudder To Think

. Larson's composed scores for a ton of films, most notably in recent years Todd

Solondz

's "

Palindromes

" and "

Storytelling

," the

Kevin Bacon

film, "

The Woodsman

" and "

Boys Don't Cry

." You can hear a bunch of free

downloadable

excerpts of his scores over at his website. He also put out a disc collection of his scores called

FilmMusik

, that came out in April of 2005 if you want a physical sampling of his work and he also has a hard-rock band called

The Hot One

(which features Canadian singer

Emm

Gryner

).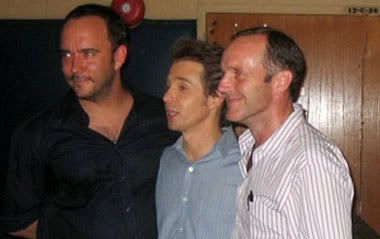 There's no release date for "Choke" yet. The film is scheduled to play in competition at

Sundance

later this month (January 17-27) and like many films at the Utah-based film festival hopes to score a distribution deal which means we may or may not see it in theaters in 2008 (

Sundance

faves like, "

Wristcutters

" took a year, "

The Go-Getter

" is still waiting for example). It's being produced by

ATO

Pictures (which explains the

Radiohead

connection - their label

TBD

, is a subset) and explains why

Dave Matthews

was on the set of the film one day.

Tim Orr

the great photographer of many excellent

David Gordon Green

films (including the upcoming "Snow Angels"), did the cinematography on this one.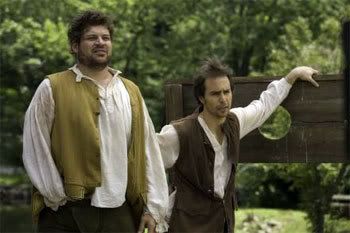 "I drew inspiration from

Hal Ashby

films like '

Harold and Maude

' and '

Being There

,' and from recent films like '

Eternal Sunshine of the Spotless Mind

' and '

Secretary

,' the director Gregg told

Indiewire

very recently about trying to capture the film's dark comedic tones. "As we began to work together on the script Sam and I watched everything from '

Boogie Nights

' to '

Bad Santa

.' We watched '

His Girl Friday

,'

Tom Jones

, various

Fellini

pictures and basically anything we thought was dark, funny or even just dirty."

We got our hands on an not-yet-official trailer (which we can't show yet) that features songs by

Jon

Brion

,

Chad & Jeremy

and

Spoon

. We'll have to wait and see if those songs make the final cut, but the trailer looks pretty good.