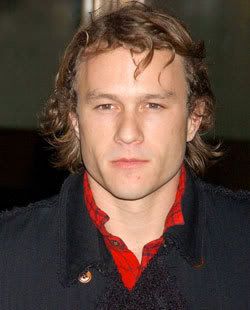 Ooof. Wow, Heath Ledger is dead. The actor apparently died of a drug overdose according to Page6. The story is developing over at TMZ as well. Sad waste of talent. We have no jokes for this one.

The 28-year-old Australian actor split from his his partner, Michelle Williams, with whom he has a daughter, Matilda Rose last year. They met during the filming of "Brokeback Mountain" in 2004. Personally sad because they actually used to live in our Brooklyn neighborhood and we used to see them all the time. RIP (1979-2008).

Details are emerging from the New York Times city blog and apparently he was found naked in a Manhattan apartment in Soho owned by Mary-Kate Olsen (insert bad conspiracy joke), according to the New York City police. Foul play is not suspected and he was apparently found dead on arrival.

At 3:31 p.m., a masseuse arrived the fourth-floor apartment of the building, at 421 Broome Street in SoHo, for an appointment with Mr. Ledger, the police said. The masseuse was let in to the home by a housekeeper, who then knocked on the door of the bedroom Mr. Ledger was in. When no one answered, the housekeeper and the masseuse opened the bedroom and found Mr. Ledger naked and unconscious on a bed, with sleeping pills — both prescription medication and nonprescription — on a night table. They moved his body to the floor and attempted to revive him, but he did not respond. They immediately called the authorities.
"We are investigating the possibility of an overdose," police spokesman Paul Browne told Reuters."There were pills within the vicinity of the bed." The NYTimes City blog has updated and is now saying the death points to a suicide or an accidental overdose. An autopsy will be conducted on Wednesday.

Ledger recently wrapped production on "The Dark Knight" as the Joker which is set for release this summer (and which will probably mean posters like this will soon disappear), and had begun work on Terry Gilliam's "The Imaginarium of Dr. Parnassus." be His latest role was one of seven Bob Dylan's in Todd Hayne's "I'm Not There."

Wow, Insert Terrible, Presciently Weird and Inapropriate Joke Here

On December 14, Ledger was spotted shooting scenes for 'Imaginarium' in London. In the scene, Heath was seen hanging (himself?) from London's Lambeth Bridge and was rescued by costar Andrew Garfield. There's accompanying photos in the link with a noose around Ledger's neck, but god, we're not posting these here.

The Associated Press is reporting that "a large crowd of paparazzi and gawkers began gathering Tuesday evening outside the building on an upscale block, where several police officers guarded the door." At 6:30 p.m., city workers rolled Ledger's body, in a black body bag on a stretcher, out of the building.

Olsen update: Reporters spoke too soon. A representative for Mary-Kate Olsen said this afternoon that the apartment did not belong to the actress. "It is not her apartment," said the representative, Annette Wolf. "She does not own the apartment. She has never owned the apartment. She and her sister have an apartment in New York City but they are not in this building."


Us Weekly's Source: "We Saw It Coming"
TMZ is reporting that Ledger had dinner with his new girlfriend, supermodel/actress Gemma Ward last night. The always classy US Weekly has already dug up a friend who says, "we saw it coming." "Heath has gone though a rough road of trying to get sober," the source told US. "Things were very dark, his one joy was Matilda. Everything else was misery for him. Unfortunately he was too late in getting help."
What are believed to be the last amongst the last photos of Ledger are over at Gawker. Intelligencer is reporting that CNN said that Ledger was actually still alive but unconscious when he was found (which TMZ and the CityRoom blog seem to confirm).