You've probably gasped at our musings about "27 Dresses," the formulaic-looking rom-com from the makers of "The Devil Wears Prada," starring the comely Katherine Heigl.

It looks terrible, but it is a slow week (and the movie comes out tomorrow next Friday - January 18). According to Stale Popcorn, the music in the film includes "Valerie" by Mark Ronson and Amy Winehouse (among others).

More amazing and somewhat more implausible is that this clichéd rom-com features a track by the lesser-known 1960's experimental and psychedelic soul outfit, The Rotary Connection, who we're big fans of (we used some Rotary Connection in our If I Were Quentin Tarantino imaginary soundtrack playlist; pop-sould singer Minnie Riperton got her start in the Connection)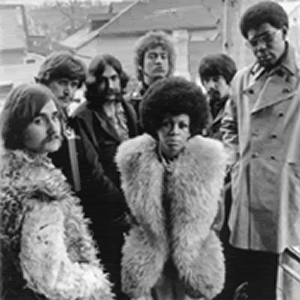 Off of 1971's Hey Love, "Love Has Fallen on Me" was remade by Chaka Khan in the late '70s and recently enjoyed a renaissance when it was sampled for the Common track featuring Lily Allen's "Driving Me Wild" (which is probably the reason why the Rotary Connection is resurfacing in this mainstream kind of way).

But you won't find any of these songs on the soundtrack. The disc that is scheduled for a January 11 release is all orchestral score material composed by Randy Edelman. If a more traditional pop soundtrack is being planned, nothing has been announced as of yet (we'd bet it depends on how popular the film does or doesn't become).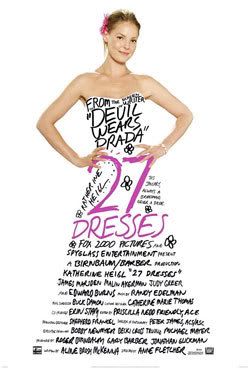 "27 Dresses" stars Heigl and James Marsden and is about a always-a-bridesmade, never a bride cliche times 1000x (or 27 if you want to be specific about it). Heigl faces her worst nightmare when her sister (played by Malin Akerman*) becomes engaged to the man of her dreams (Ed Burns). But at their wedding she meets a man (Marsden) who will... yadda, yadda, yadda. You get the picture.

Incidentally, Akerman fronts a radio-ready hard-rock band in Los Angeles called The Petalstones. They are terrible. Heigl is married to rock-star milquetoast Josh Kelley.

Watch: "27 Dresses" trailer
Watch: Chaka Khan - "Love Has Fallen On Me"
Watch/Listen: Rotary Connection - "Teach Me How To Fly"