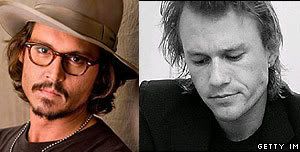 Is Johnny Depp going to step in and take Heath Ledger's role in "The Imaginarium of Dr. Parssanus"?

Unless you've been living under a rock you heard that Ledger was found dead in his New York apartment this week - and the actor was just six weeks from finishing director Terry Gilliam's fantasy 'Imaginarium' flick.

His untimely death had left the project up in the air. The project is currently listed as a "force majeure" (a clause which allows producers to end contracts in extraordinary circumstances).

However, reports are now claiming that Gilliam wants to finish the film with Johnny Depp taking Ledger's role as an outsider clown that tries to heed off the devil (played by Tom Waits).


A studio source apparently has said: "There is a point in the film when Heath falls through a magic mirror. He could change into another character after that and that is where Johnny would come in.[ed. this sounds totally retarded, just reshoot it]. It's a weird, fantasy, time-travel movie so Heath's character could easily change appearance. It would be a poignant moment. Johnny's not working at the moment so everyone is praying he will do it."

Take that with a grain of salt until you hear further (it is coming from the tabloidy UK Sun). The paper does add that Ledger had a huge blow-out with 'Imaginarium' producers just three days before he died after they refused to reshoot a scene he was unhappy with.


But it does sound feasible. Depp has a good relationship with Gilliam having already starred in "Fear & Loathing in Las Vegas," and almost in "The Man Who Killed Don Quixote," before production was shut down within a week of filming due to the dire health of actor Jean Rochefort and other unforeseen acts of god (the debacle of that production of film became the fascinating documentary, "Lost In La Mancha").

Depp has said he would always return for 'Quixote' if Gilliam could ever get it back off the ground (which there's been recent talk of, coincidentally), so he has a soft spot for the wacky, near-cursed director and he probably has a thing for salvaging destroyed projects since 'Quixote' got canned. While we remain skeptical, we hope it happens if only cause Gilliam has had some really, really terrible luck in recent years and it would be nice to see him get a film off the ground that's not a total disaster.

Watch: The only completed sequence of "The Man Who Killed Don Quixote"

Watch: Trailer for "Lost In La Mancha"