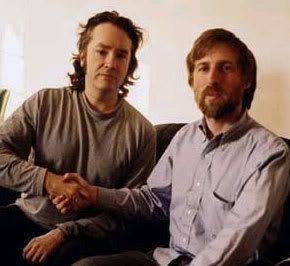 Last week we wrote about Carter Burwell, the long-time Coen brothers' musical collaborator who has scored the majority of their many excellent movies - most recently "No Country For Old Men," in which he took a completely different approach via ambient sound and minimalism.

Burwell has worked on every Spike Jonze film thus far ("Adaptation," "Being John Malkovich"), so we assumed correctly that he's composing the score to Jonze's adaptation of Maurice Sendak's classic children's novel, "Where The Wild Things Are."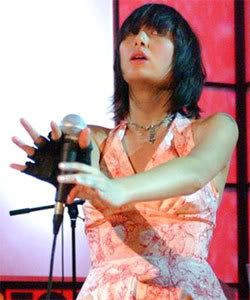 You'll remember we first wrote about Karen O of the Yeah, Yeah, Yeah's musical participation in 'Wild Things,' (O and Jonze used to date, he directed many YYYs videos and related projects). But details were scarce. All we knew is that she'd be on the soundtrack.

And while Jonze has a well-documented relationship with contemporary rock music as a video director, his films thus far have been mostly all traditional score material (by Burwell) with only one major appearance of pop songs in his films (Björk's "Amphibian" from the closing credits of "Adaptation," we suppose the Turtles in "Adaptation" counts. Is that in the credits? We forget). So it seemed very possible that all we might be getting out of the Yeahs frontwoman, might be a single song in the credits (which never really counts as far as we're concerned).

However, on Burwell's website he gives up a little tidbit which reveals that Karen O has written songs - plural and "other pieces music for the film."


Small, but revelatory, considering this is one of the most eagerly-anticipated movies of the next twelve-plus months. Karen O's child-like demos illustrate that she might be well-suited for this project as did the music of her dreamy Adidas ad (see below). But don't forget 'Wild Things' has been bumped to 2009 according to Dark Horizons.

O apparently still has a solo album that should be long-finished by now produced by Jonze's younger brother Sam Spiegel (aka Squeak E. Clean), who produced the Yeah, Yeah, Yeah's Roll Your Bones (His collaborative N.A.S.A. project also features vox by O on one track). Burwell will next work on "Burn After Reading," the next Coen Brothers espionage comedy that should hopefully be ready for a late 2008 release (but since it just finished shooting, don't be surprised if it's not ready until 2009). Burwell has also composed the score for the upcoming Sundance film, "In Bruges" (more on that in a sec). For more info on O and Jonze's 'Wild Things,' see our original post.

Update: We just heard back from Squeak E. Clean. He tells us that Karen is doing the bulk of the soundtrack. "Karen is doing most of the music. I've helped out a little with ideas, but she is pretty much doing the whole thing," he writes.

"Wild Things' will feature the voices of James Gandolfini, Catherine Keener, Forest Whitaker, Paul Dano, Catherine O' Hara and Lauren Ambrose who recently replaced Michelle Williams.

Download: Karen O - "Pumpkin/Save The Seeds" (from the The KO at Home demo)
Download: Karen O and Kool Keith - "The Teaser"
Download: Karen O & The Million Dollar Bashers - "Highway '61 Revisted"
Download: Yeah Yeah Yeahs - "Maps" (acoustic)
Watch: Yeah Yeah Yeahs - "Y Control"
Watch: Karen O and Spike Jonze's Adidas commercial "Hello Tomorrow"