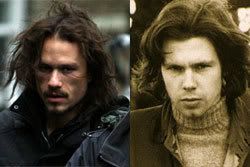 Here's another chillingly coincidental Heath Ledger update (see the odd 'Imaginarium' coincidence in our obit).

We hope we're not being too crass here, but this is just eerie.

According to MTV News (in a bit we helped report), representatives of the Nick Drake estate said that an eerie and chillingly coincidental video for Drake's "Black Eyed Dog" was shot and edited by Ledger last year on behalf of the reissues and Fruit Tree boxset that was released in November 2007. In the stark, black and white video, Ledger is the subject and at the end of the clip he drowns himself in a bathtub. "Black Eyed Dog" was apparently the last song Nick Drake wrote before overdosing on pills (titled because of a Winston Churchill quote describing depression as a "black dog"). The video is not available commercially and has only been screened twice for the public (once at Bumbershoot in Seattle and once at a L.A. Nick Drake event to promote the reissues).

Bizarre and weird.


Ledger told reporters at a 2007 Venice Film Festival press conference that he was "obsessed" with the folk artist and once aspired to tell his story. "I was obsessed with his story and his music and I pursued it for a while and still have hopes to kind of tell his story one day," but added that those hopes "faded away."

Ledger's music ties didn't end there. He directed Ben Harper's video for "Morning Yearning" and announced plans to start a label with the singer called Masses Music Co. last year. Their first signing was Australian singer Grace Woodroofe; Ledger also directed a video for her cover of David Bowie's "Quicksand."

Ledger also introduced acts at the "I'm Not There" tribute concert to Bob Dylan.

Police Updates
Meanwhile, Ledger's parents are insisting that their son's death was not a suicide. TMZ is reporting that the actor was sick with pneumonia when he died. More importantly a police spokesman said there was no "obvious indication of suicide" like a note, according to the New York Times. No illegal drugs were found in the apartment.

The State of Dr. Parnassus?
Incidentally, as you might have expected, the future of of Ledger's "The Imaginarium of Dr. Parnassus" is now in doubt. The cast also featured Tom Waits. Director Terry Gilliam must feel like he's cursed.