So the WGA (Writers Guild of America) nominations were handed down today and a laborious, little film called "Zodiac," -- of which a small, but loud little contingent of flamers are championing -- earned itself a Best adapted screenplay nod (James Vanderbilt is the writer).

Whoopdedoo, congratulations, right? However, this token gesture will surely galvanize the "Zodiac was awesome, brah!," community of critics who apparently loved David Fincher's tedious investigative examination of a tedious investigative examination (about a serial killer that was never fucking caught, we spoiled that film for you didn't we?).


The movie, which clocks in about 15 hours and feels like a physics mid-term, is reminiscent of that moment on SNL in the '70s when an inundated Chevy Chase -- playing Gerald Ford in a mock Presidential debate - is besieged with scientific data questions and asks to be excused because he was under the impression that there would be "no math involved."


In the film, Robert Downey Jr. does an amazing job of playing Robert Downey Jr. (in an ascot and goatee of course -- what amazing craft!) and some are calling for his impression of himself to be given some Oscar consideration (not in a trillion year, bub).

Adapted nominations also went to Ethan and Joel Coen's "No Country for Old Men," script, Paul Thomas Anderson's "There Will Be Blood," jump-off revision, Ronald Harwood's "The Diving Bell and the Butterfly," story and Sean Penn's take on the "Into the Wild" hippie.

Original screenplay nominations went to -- big shocker here - Diablo Cody's oh-my-blog teenybop "Juno" script, Tony Gilroy hobby away from writing 'Bourne Identities', "Micheal Clayton," -- another not-so-shocker -- writer/director Tamara Jenkins' belated return with the depressingly-funny "The Savages" and two semi-surprising, but not unwelcome nods: Judd Apatow earning a nomination for "Knocked Up," and a nod for Nancy Oliver's cloying, too-sincere "Lars and the Real Girl," (though we liked it) script.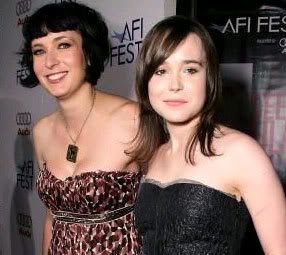 Considering all the massive ink that Cody's obnoxious, but sweet "Juno" script and personal backstory earned her this year, if she doesn't score an Oscar victory this February, she should fire her publicist immediately and consider getting back on the pole.

Hooray for writing... that isn't on strike. As usual, look to these nominations to be at least a semi-crystal-ball-like peek into what will eventually be nominated for the Oscars where writing awards are concerned (3 out of five at least).

Snubs?
Well, we were really hoping Noah Baumbach's savage look at a hyper-dysfunctional family weekend trip - "Margot At The Wedding" - was going to get some love, but since apparently everyone hated it besides us, it was pretty much ignored (one of the most underrated films of the year? Yes. Did the miscast Jack Black sort of ruin some of it? Yes, he did, but whatever). Another major snub is "Atonement," which is watching its pre-Oscar buzz going down in flames rather quickly (it's looking like the film will be relegated to costume and art direction nominations if it wins anything at all). Some will consider the fact that Wes Anderson, Jason Schwartzman and Roman Coppola's meandering "The Darjeeling Limited" script not earning a nomination is a snub, but as we wrote earlier today, nobody expected it to earn squat (we surely didn't).

After all this, we will admit that "Zodiac" does have a good soundtrack (thank you Randall Poster).