If you're a regular Pitchfork/Bk Vegan music blog reader you might be wondering and grumbling to yourself about Jonny Greenwood's disqualification at this year's Oscar nominations for his haunting "There Will Be Blood" score; how unfair it was and how you're not going to tune into the Oscars this year because of it [ed. that'll fucking show them].

Additionally, if you're a Rolling Stone/Stereogum reader you might be further pissing and moaning that Eddie Vedder and Sondre Lerche were shut out of the original song Oscar categories and "Enchanted" scored three delightful nominations, hogging up almost the entire category (you're like, "wtf!!?")

And finally, if you're an inquiring and astute music fan you're thinking to yourself in bitter lashing-out frustration, "How the fuck is it that Jonny Greenwood gets disqualified and yet the bullshit 'Once' soundtrack songs by Glen Hansard and Marketa Iglova are still eligible?" (even though they're in two different categories, you're so incensed, you're not thinking clearly)

After all, the duo's nominated song, "Falling Slowly," has been released twice before. Yes, twice. Once (get it!?) on the Frames (Hansard's day-job band) 2006 album The Cost and once on The Swell Season's (the name under which the duo sing) self-titled album also released in '06.

That would seem to make the song ineligible, correct? Wrong. The hot topic has aggressively debated recently with message boards and other nerds all in a lather about it with preemptive outrage on behalf of their snubbed favorites.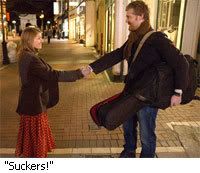 But according to HitsDailyDouble and Fox Searchlight, "Falling Slowly" was eligible because the song was written specifically for "Once." Director John Carney even wrote a letter to that fact to the Academy to beg and plead his case. Holy shit, a letter!

Apparently this happened before when a song by Bird York ("In The Deep") - released five years earlier - was nominated for "Crash." But apparently the song was written specifically for the film, and director Paul Hack Haggis sent a similar angry communiqué to the Academy at the time to back this claim - and it worked.

There you have it. Letters from directors are all the proof the Academy needs. I mean, they wouldn't lie, right? They had the film entirely thought out and approached people to write songs about it like five years prior, right? Suuuuuuuuure. Maybe Paul Thomas Anderson needs to buy a typewriter.

Greenwood's "Popcorn Superhet Receiver" is currently streaming over at WNYC|New York Public Radio, and in listening to it you really do get the sense that Greenwood should have been disqualified, cause a lot of Superhet thingamajiggy is used in "There Will Be Blood" all over the place and in many memorable and key moments (and since it wasn't written for the film...).

Watch: Glen Hansard and Marketa Iglova - "Falling Slowly"