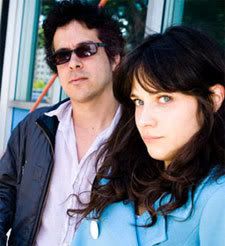 So Zooey Deschanel was on KCRW's "Open Road" program on Sunday (January 6) night. On the show, (which you can't listen to yet) host Gary Calamar mentioned that Deschanel's upcoming album with M. Ward is scheduled to come out in March under the title Volume One.

Guess that would imply they'll be more music to come, huh? No information on what record company is putting the disc out, but we're sure more information will surface soon enough. We missed the first part in our rush to listen. The album comes out on Merge according to KCRW.

Update: Ok, the audio is up now. The album which was produced by M.Ward is called a "collaborative album" with the Portland singer-songwriter and apparently, according to Deschanel will go under the name She And Him.

On the program, Deschanel described how the collaboration came about. "I was doing a film called 'The Go-Getter,' and M. Ward was doing the soundtrack and the director Martin Hynes he wanted us to do a duet together and we met doing that and had so much fun, that M. asked to hear these demos that I had made - I write a lot of music, but I'm kind of shy about it. So he asked to hear it and asked if we could do something together cause it was fun and why not."

Will they tour? "Hopefully," she said. "I don't know if I will tour exactly, right when it comes out, but I'm sure I will.... Volume One is the name of the record" (which Calamar joked left it open for Volume Two, "yeah, exactly," she laughed).

On the show Deschanel DJ'd (or at least picked) songs by the Zombies, The Kinks, Nina Simone, the Byrds and many others. On the show they played the She And Him tracks "Sentimental Heart" (which we have below) and "Why Do You Let Me Stay Here" (which you can hear either on the radio show or at one of Zooey's unofficial Myspace pages)

Download: She And Him (M.Ward and Zooey Deschanel - "Sentimental Heart"
Download: M. Ward & Zooey Deschanel - "You Really Got A Hold On Me"
Download: M. Ward & Zooey Deschanel - "Magic Trick"
Download: M. Ward & Zooey Deschanel - "Change Is Hard"