So yeah, we're on an homage kick, sue us. The Vanity Fair Alfred Hitchcock photo portfolio salute reminds us of one of our favorite scenes in a little-seen film by one of our favorite and underrated directors Emir Kusturica. The kooky Serbian director is perhaps most well-known internationally for his very excellent epic Yugoslavia historical satire, "Underground" which won the Palme d'Or at Cannes in 1995. In the early '90s, Kusturica's madcap and often wildly silly, but intensely enjoyable sensibilties was drawn in by Hollywood for his only U.S. made feature, "Arizona Dream." The cast was stellar: Johnny Depp, Jerry Lewis, Faye Dunaway, Vincent Gallo, Lily Taylor and Paulina Porizkova.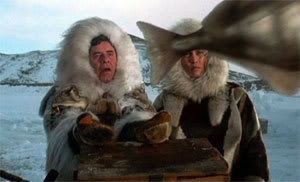 The plot was ridiculous: A young New Yorker's dream about an Innuit hunter a rare halibut circuitously prompts a trip to Arizona. The dreamer (Depp) is coaxed by his cousin (Gallo) to leave his fish tagging job to attend his Uncle's (Lewis) trophy-wife wedding in Arizona as a ruse to have him run the family business, but from there he become romantically involved with two different women (Taylor and Dunaway).


Sound bizarre? It is. The film is deeply eccentric, odd and farcical and sadly, it hasn't been readily available on DVD for years (hint, hint). The soundtrack was composed by well-known Balkan musician Goran Bregović and featured the lyrics of Kusturica and Iggy Pop's vocals on four different tracks.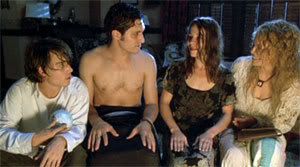 But back to our point. One of the film's strangest and most memorable scenes was during a talent show where Gallo's character decides to play Cary Grant's role from North by Northwest with the famous crop duster scene. It's basically done completely silently in a mime-like way with Gallo running in place and then hitting the floor whenever he imagines the plane flying overhead. Perhaps you need the full context of the movie to appreciate it, but it's a wacky scene that always had us in stiches. If you can track this film down, do so. It's fantastic (we should add this to our impending "Come Out On DVD Already" piece we're planning).

The film was shot in 1991, released in 1993 and finally made it to the U.S. in 1994 where its release was totally botched (it grossed just over $10o,000, which probably explains the reason it's not out on DVD in North America). Kusturica recently made the soccer documentary "Maradona" about bloated, coked-out Argentinian futbol washout Diego Maradona. Manu Chao appeared and contribute songs as did Kusturica's long-time musical contributors, Yugoslav-era'd rock band The Smoking Orchestra (he used to play in an earlier offshoot of the group). Kusturica also directed the video for Chao's "Rainin in Paradize."

Watch: Scene from "Arizona Dream"