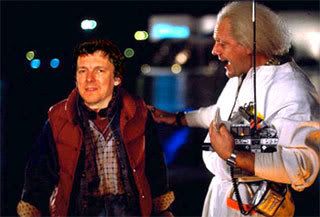 For a film we kind of disliked, we're sure blogging about this a lot! [ed. nice preemptive strike].


So "

Be Kind Rewind

," the

Michel Gondry

movie that opens up this weekend and isn't very good, but it marginally charming, right?

In the film

Mos Def

and

Jack Black

"swede" (cheaply remake) a bunch of pre-existing "classic" films because they accidentally erase them. They remake "

Ghostbusters

," "

Robocop

," "

Boyz N' The Hood

," "

Driving Miss Daisy

" and many more (all the sweded trailers for them are here).

But Gondry really wanted to swede "

Back To The Future

" but couldn't secure the rights to do so.

"We really wanted to do 'Back to the Future'," Gondry told Vulture in a recent interview. "In fact it's secretly one of my favorite movies ever. It's a really good example of a broad comedy with a smart franchise. But I always got really offended when they had a little white guy explaining to a black dude how to play rock and roll. I wanted to reverse that. I wanted to have Mos Def explaining it to Jack Black!" [ed. smart franchise? BTTF II and III are

dreadful

. Yes, the original is a stone-cold classic]


Gondry also wanted to send up/celebrate

Jean-Luc Godard

and the

French New Wave

, but ran out of time. "I also thought about Sweding a French New Wave movie in black and white, and having Mos Def and Jack Black pretend to speak French, you know— [mumbling] huhbuhdubudieu — with the subtitles painted on a piece of glass in front of them. I had many ideas, but we didn't have time to use them all."

Some will remember that a pseudo-"

Superman

" swede was shot, but we can attest that it was cut out of the film having seen it. "
We did 'Superman.' I probably shouldn't say that … we had to change the name of it to something else — 'Incredible Flying Man,' I think," Jack Black told MTV in the fall of 2006.

Maybe we'll see it on the DVD?
Very likely, not to mention the tons and tons of fan sweded films that have been made in the film's wake.