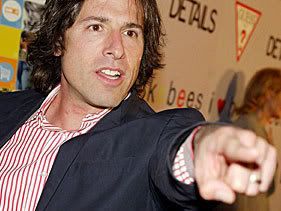 Who woulda thunk that after his I Hate Huckabees YouTube fiasco that loose cannon David O. Russell would ever work in Hollywood again?

Then again, memories are pretty selective in Tinseltown. Anywhoo, the notoriously difficult director (George Clooney famously punched him out on the set of "Three Kings") has been tapped to write an adaptation of "The Silver Linings Playbook" for the Weinstein Company according to Hollywood Insider.

The script is based on Matthew Quick's upcoming comedic novel about a delusional man who discovers his wife has remarried and moved on once he's been released from a mental facility after a nervous breakdown/collapse. It's somewhat unclear if O. Russell is expected to direct, but it seems his maverick wackiness is right up the subject's alley (there's also some meta-movie parts to the story, see the Quick link).

O. Russell's next film is apparently in pre-production too. It's evidently a political satire called, "Nailed," that's to star Jessica Biel and Jake Gyllenhaal. The film is apparently supposed to start shooting April 15. The screenplay for "Nailed" was written with Al Gore's daughter, Kristin. The film is about a socially awkward, uninsured receptionist (Biel) who accidentally gets a nail shot into her head. The woman goes on a Washington crusade to fight for the rights of the bizarrely injured and meets an immoral congressman (Gyllenhaal) who takes advantage of her sexually and politically.