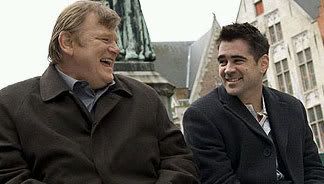 (Our belated review) Does the world need another gangster film about hitman with feelings that riff on of pop culture topics and smoke targets while dropping clever witticisms? Hell no, and despite all appearances Martin McDonagh's debut feature-length film "In Bruges" thankfully avoids most of these now-tired and eye-rolling cliches.

If you feared this film would fall prey to the quick, rock n' roll stylish cuts and camera tricks of Guy Ritchie you can rest easy. If you were worried 'Bruges' would drop pop-culture references like Tarantino and Kevin Smith in an inept game of catch, again, you can breathe a sigh of relief.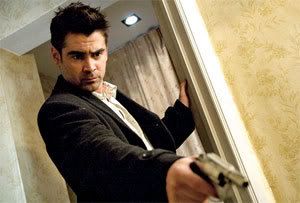 Well, these were our biggest worries anyhow, but having seen McDonagh's "The Pillowman" years earlier on Broadway, we should have known better.

The black as pitch dark comedy with , (rhymes with Rouge) features Colin Farell and Brendan Gleeson as contract killers sent to the medieval Beligian city of Bruges after a botched hit at the behest of their loose cannon boss Ralph Fiennes. The opposites attract duo are told to lay low until contacted by their boss as he figures out their next move and the movie settles in on what seems to be their forced exile in city that is historical and enchanting to one (Gleeson) and torturously boring and dull to the other (Farrell).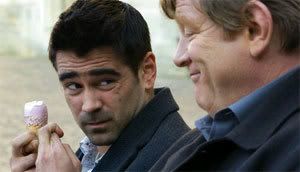 One sightsees and takes in the culture and the other whines and bitches eventually finding some cohorts to ease his massive sense of anxiety and boredom. Eventually it's revealed - without spoiling too much - that Farrell's character is holding down a heavy burden that's making him despondent and full of despair.

They run into a dwarf, a sexy Belgian drug dealer and an irate Canadian traveller who gets his clocked severely cleaned. All the while Gleeson is trying to keep their profile low while Farrell does everything to subvert that plan. But for all the talk of snappy talking hitman with guns (at least from some of the press), there's isn't that much violence in the film really.

One of the main beefs we constantly keep reading about this film is that the film is tonally confused. Perhaps the reviewers are just concerned because McDonagh's bread and butter is mixing comedy and tragedy, so these critiques seem rather off (and since when did comedy and tragedy not go hand in hand?)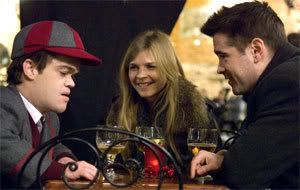 McDonagh doesn't pretend that he's not a playwright first and foremost. The film's strength is its fiercely sharp, biting and witty dialogue and it makes up for his staid and simple (yet effective) direction. One of our favorite elements of the film is all the extremely un-PC, off-color juvenile humor in the film that made us giggle uncontrollably (usually from the mouth of the uncouth Farrell)- even more so because people like Entertainment Weekly's ostrich-like Lisa Schwarzbaum and geriatric patient/movie critic Rex Reed were visibily uncomfortable.

Not unlike his past work, 'Bruges' is like a dark, modern fairytale that mixes subtle shades of vulnerability and melancholy with trenchant quips and tenebrous disasters with a dash of absurdism thrown in for good measure (there's also traces of Nicolas Roeg's eerie 1973 film "Don't Look Now" set in the simillarly historic venue of Venice). 'Bruges' was the hit of Sundance if that means anything to regular moviegoers and while it's not genius per se and McDonagh still has room to improve his filmmaking skills, it's probably the best film of this dismal winter film season you're going to witness all year. [B+]