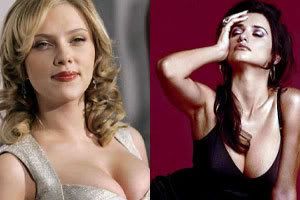 Ok, so Woody Allen just cast Larry David (as himself naturally) in a film where David presumably pines over the incredibly younger and jailbaity Evan Rachel Wood (who is already banging someone about 15-years her senior in porno trapeze artist Marily Manson). That's creepy and pervy enough as it is, right?


But in Allen's
newest
film "
Vicky Cristina Barcelona
," he's cast
Scarlett Johansson
&
Penelope Cruz
in the film the two apparently have a steamy lesbian love scene in the film according to the New York Post. The scene will apparently "leave the audience gasping." Later in the film the ladied evidentely have a threesome with

Javier Bardem

.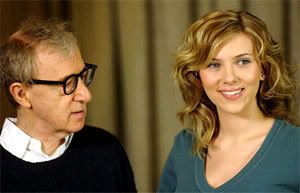 Ok, as a red-blooded male you can't get mad at that, but seriously: Is Woody Allen's career always devolving into his sexual fantasy wishlist before he dies? Or has it always been this way and as he gets older and his films get shittier he's just saying, "

fuck it

" and aiming for the sky?