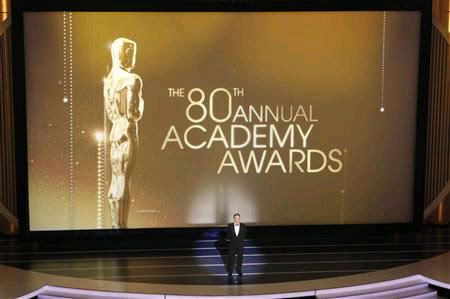 Didja hear? The Oscars were the lowest rated Oscars in the history of the award ceremony's telecast. The average was 32 million viewers, which entering the record books on Monday.

So what was the problem? Well, it couldn't possibly be those long, overblown, suicide-inducing musical performances or the narcolepsy-inspiring montages that make you unconsciously reach for the remote button.


There must be something larger here at work. Let's hit the media and their acute observations to find out what the real problem is. First off, it's obviously the movies' fault. They're all too dark and independent and they don't star Kate Winslet and Leonardo DiCaprio on an oversized boat that's doomed to sink. So first things first: stop nominating good films.


Secondly there's the problem with that irreverent and cheeky Jon Stewart. His comedy stylings aren't like that lovable mensch Billy Crystal that you're grandmother hearts so much, so perhaps he should be replaced something quick-like. Let's face it. That "cabbage dance in the aisles" joke he made about Hal Holbrook went straight over his head (but he was probably napping anyhow). Critics did love Stewart, but as we know, these jackasses have absolutely no idea what they're talking about ever cause they can never see the genius that is "Everybody Loves Raymond."

Third: These nominated "movies" generated low box office figures or "little enthusiasm among moviegoers despite critical raves." Solution? Stop nominating good movies and pander a little more to the ham and eggers on the street. We mean, fuck. Only ONE of these movies - "Juno" - was able to crack the $100 million dollar mark. And movies aren't worth watching if they can't at least make a $100 million, right? AMIRITE!?


Fourth: Who won best actor, actress, supporting actor and actress? An English man desperate to be Irish (Daniel Day-Lewis), a alien-looking British person - woman? (Tilda Swinton), a fucking French woman (Marion Cotillard) and a Mexican (Javier Bardem). Umm, how about we stop nominating these fucking foreigners and give out the awards to red-blood Americans for Christ sake (despite that the Oscars are viewed worldwide of course. Even people in Yemen want to see George Clooney's handsome face at the podium, duh).

There you have it. Four fucking simple as American-apple-pie-steps to saving the Oscars from bad numbers, disappointed advertisers, bad-look record book shame and preventing Academy President Sid Ganis from receiving a bigger bonus next year.

We already see the writing on the wall: Next year, Academy Award winner Michael Bay and "Transformers 2." Hope you guys enjoyed that one year off when decent films got their shot.