Perhaps you've heard of Madonna's directorial debut "Filth & Wisdom" starring her gypsy-punk bff, Gogol Bordello's Eugene Hutz that recently premiered at the recent Berlin Film Festival (a fest that is apparently bereft of any major hits and plenty of duds, speaking of...)

Reuters recently asked, "Madonna can sing, her acting has been hit and miss, and now the question is, can she direct?" They also noticed that her production notes revealed no lack of confidence.

In the notes for the film Madge said, "I have always been inspired by the films of [Jean-Luc] Godard, [Luchino] Visconti, [Pier] Pasolini and [Federico] Fellini and hope that I may one day make something that comes close to their genius" (one assumes her husband filmmaker Guy Ritchie read this after this already went to print and screamed in horror).


Hilariously, she spelled two of the directors' names incorrectly (she spelled "Goddard" with two ds and "Passolini" with two s'). To get to the point, critics have been savaging the film and what's being perceived as Madonna comparing herself to some of cinemas giants, is certainly not sitting well with anyone (to be fair she lists them as an influence, but people will project what they want).

Regardless of the poor reviews Madonna insists this is just the beginning. "It's definitely not a one-off," Madonna told Reuters Television in an interview. Adding that she has "other ideas swirling in my head." Madge also apparently had the gall to use one of her own songs in the film ("Erotica") plus Britney Spears' "Baby One More Time" and various tracks by Gogol Bordello apparently pepper the film.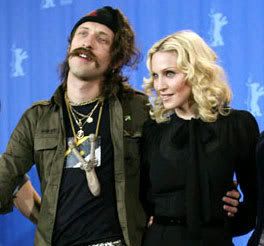 An odd, different Reuters' review said the film's message was "that all of us can find peace of mind and happiness if we just get in touch with our inner slut." And said the film was "Ragged, uneven and potholed with some dire dialogue and performances." The UK Guardian's Peter Bradshaw gave the 81-minute film one star and said, "Madonna has been a terrible actor in many, many films and now -- fiercely aspirational as ever -- she has graduated to being a terrible director," he wrote. "She has made a movie so incredibly bad that Berlin festivalgoers were staggering around yesterday in a state of clinical shock."

Ouch. However, Madonna might be shielded from it all claiming she won't read the review. "I'll just let my managers tell me what they say. I don't want to read it myself." We're thinking the three mildly positive reviews written (Rex Reed or Gene Shalit anyone?) are floated her way.

"This is the terrain I've been exploring throughout the years," Madonna told indieWIRE. "Non-judgment and duality... People have misunderstood my [attention to] this theme yet it has made me what I am today." Whatever...

This 3-minute clip from the film looks dreadful.