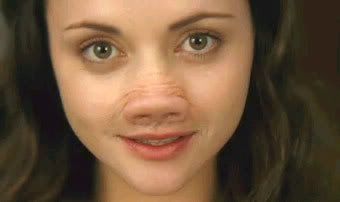 Perhaps you've had the misfortune of hearing about "

Penelope

," a IFC/Weinstein production that debuted in 2006 at the Toronto International Film Festival. Yeah, exactly

2006

. It gets better.

It's about a girl, Penelope Wilhern (

Christina Ricci

), born to wealthy socialites afflicted by a secret family curse (a fug pig nose, like real snout schnozz). To be protected by cruel children and unaccpeting society, she is hidden away inthe family's majestic home for basically all her life until her parent's carry out several futile attempt to marry her off (the film also stars

James McAvoy

and

Reese Witherspoon

in roles they probably now wish they never auditioned for),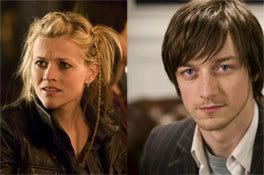 Sounds fucking

terrible

and yes, it's been pushed off and delayed more times than

Chinese Democracy

(ok, not as bad as that, but you get the picture). Well, it's finally limping into theaters
February 29. And naturally we have the soundtrack information which is suprisingly is not bad.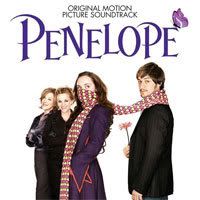 Due February 19, the disc features tracks by

Stars

(the very excellent, shoulda-been-a-hit, "Ageless Beauty"), fellow-Canadian indie-pop act,

Papermoon

,

Devotchka

and a piano/instrumental version of
Sigur Rós
"Hoppipolla" by
Wenzel Templeton & Robert Pegg

for indie enthusiasts and more feel-good adult contemporary fare by

James Greenspun

("Your Disguise" appears to be the big single from this thing) and Meiko (who probably straddles that line between indie and AC, stereogum will

loooove

her). If all goes according to plan, people will be posting in the comments section of this article about the Greenspun track for at least the next six months (sample scrawl: "does anyone know the song featured in the moment when they kiss that's all beautiful and made me and my boyfriend cry?")



The

Band of Horses

track

"Funeral" can be heard in the trailer, but is not featured on the soundtrack nor presumably, the movie. Whateves.

"Penelope" soundtrack tracklist
1. Joby Talbot - "The Story Of the Curse Pt 1"
2. Joby Talbot - "The Story Of the Curse Pt 2"
3. Schuyler Fisk & David Bassett - "Waking Life"
4. Meiko - "The Piano Song"
5. Joby Talbot - "Penelope Breaks Free"
6. Joby Talbot - "Fairground"
7. The Secret 6 - "Give In"
8. Devotchka - "Queen Of Surface Strings"
9. Paper Moon - "String Of Blinking Lights"
10. Joby Talbot - "The Wedding"
11. Stars - "Ageless Beauty"
12. Joby Talbot - "The Kiss"
13. Wenzel Templeton & Robert Pegg "Hoppipolla"
14. James Greenspun - "Your Disguise"



Watch: "Penelope" trailer