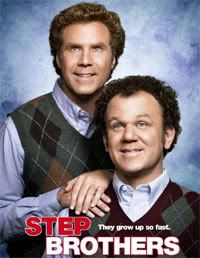 Will Ferrell's doofus clowning routine somehow never gets old. The film is produced by Judd Apatow, but it feels more like a Ferrell/Adam McKay (the director) project that an Apatow one. LCD Soundsystem's "North American Scum" is featured prominently at the beginning of the trailer. Someone on their licensing team is really working overtime these days (maybe Pete Shelly should finally sue).

The Gist: Two adult men suffering from some serious arrested development, still living at home become step-brothers after their single parents get married.

In Summary: Yet another stupidly funny Will Ferrell comedy that defies the odds of repetition and continues to be amusing. Oh yeah, and with John C. Reilly again.

Tagline: From the guys that brought you "Talledega Nights" (they really don't need much more than this).

Quotables: "As soon as your eyes are shut I'm going to punch you square in the face."

Release Date: July 25, 2008

Download:
LCD Soundsystem - "North American Scum"