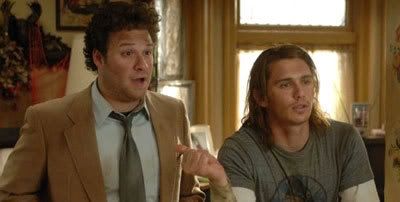 You can be sure this one
won't be up for long
.
Ok, so wunderkind producer / filmmaker Judd Apatow has four films coming out this year, but if any of his comedies can recreate 2007's banner year, "Pineapple Express" looks like its the one (the other three are "
Forgetting Sarah Marshall
," "
Drillbit Taylor
," and "
You Don't Mess With Zohan
").
Let's not forget that "Walk Hard," was
kind of an Apatow dud too
, box-office-wise.
"It's like God's vagina." You can't sell a film based-around weed in trailers that easily, so look for a lot of R-Rated viral clips like this one to hit the internets.
Anywoo, 'Pineapple Express' (it's the brand name of the pot); it's a stoner comedy for summer 2008, directed by normally-moody artisan
David Gordon Green
and stars Seth Rogen and James Franco (both of "Freaks & Geeks alumni) as stoner buddies who inadvertently witness a drug-related murder involving a cop (Rosie Perez), and try and use the threat of mob fugitives out for blood as motivation to get their shit together and lives in order. You'll remember
a four minute clip from the film leaked
late last year (and it's still up if you want to see it). The trailer features multi-culti mash-up artist M.I.A.'s "Paper Planes." The film is written by the trio of Seth Rogen, Evan Goldberg (these two wrote "Superbad") and Judd Apatow and hits theaters August 8.
Download:
M.I.A. - "Paper Planes"
Watch: "Pineapple Express" Red Band trailer