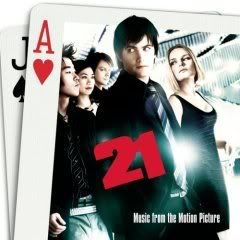 Let's face it, this "21" gambling movie looks about as sharp as a bag of plastic butter knives. Remember that silly "The Perfect Score," flick where a disparate gang of six high school losers decide to break into the Princeton so they can steal the answers to their upcoming SAT tests? (and of course one's black, one's gay, one's punk, one's a nerd, one cliche after another...)

It's like that only THIS time it's six MIT students trained to become card counting experts and take Vegas for millions! (Wow, original, right?). Somehow they roped Kevin Spacey into this one and we expect despite claiming he doesn't really want to act in films anymore, someone drove up to his house and dumped a truckload of dough on his front porch and he acquiesced.

So sure, it's a waste of your time, but the soundtrack for the film does cobble together a respectable list of electronic dance tracks that are fast and friendly for all those fast-moving tracking shots where the characters put on sunglasses and think they're fly, with tracks by UNKLE, Amon Tobin, LCD Soundsystem, Mark Ronson, MGMT and more (full tracklist is here). The music selection is seemingly bitten from the "Ocean's 11" school of funky tracks but more on the dance tip than the lounge, funky breaks tip that David Holmes deftly brought to those Steven Soderbergh films.

Anywhoo, here's three tracks from the film, Soulwax's remix cutup of the Rolling Stone's "You Can't Always Get What You Want," Montreal-based electronic DJ Amon Tobin's "Always," and an original track written specifically for the film by LCD Soundsystem.