Say what you will about French director Oliver Assayas (sometimes, he's grossly overrated), but the filmmaker does know how to make some choice mixes for his films.

2002's "Demonlover" featured original music composed by Sonic Youth and and Chicagoan avante-composer Jim O'Rourke, 1996's cult-fave "Irma Vep" featured more SY and Luna, and 2004's "Clean" featured a shitload of the warm, sonic atmospheric bath that is Brian Eno, plus tracks by the Notwist, and Metric (who made a cameo playing themselves at a gig).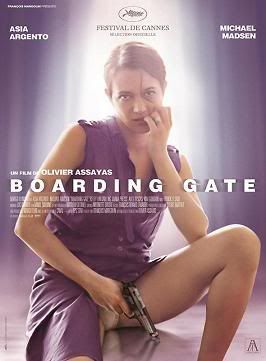 The the recently released pseudo-thriller / sexual psychodrama, "Boarding Gate" (which we thought was his best so far) continues the filmmakers strong predilection for the moody ambient sonics of Eno, plus this time uses a track from the glabrous composer's frequent collaborator, avante-guitarist/ ex-King Crimson guitarist, Robert Fripp (from their 1973 inagural album No Pussyfooting)

The coup de grace though is the 2nd half of Sparks inspired collaboration with '70s disco maestro Giorgio Moroder, "The No. 1 Song In Heaven" (from the 1973 album, No. 1 in Heaven) which is used sublimely (and somewhat absurdly) in the film's credits. At any rate it showcases Assayas' sense of not taking himself too seriously in a film that many might feel is largely pretentious.

Oh, also note the one-sheet poster to the left which slyly displaces a moment in the movie where star Asia Argento plays with her hoo-ha, with a conveniently placed handgun. Three cheers for photoshop!

Music used in "Boarding Gate"
Brian Eno - "Lizard Point"
KLF - "What Time Is Love"
Brian En0 - 2/2
Fripp and Brian Eno - "The Heaven Music Corp"
Lin XI - "Shy Zhou Mo"
Dickey Cheung - "Younger Days"
Ai Jing - "Desire Of Flying"
Bai Kwong - "Waiting 4 U (2003 Remix)"
Sparks - "The No. 1 Song In Heaven"

Download: Brian Eno - "Lizard Point"
Download: Brian Eno - "2/2"