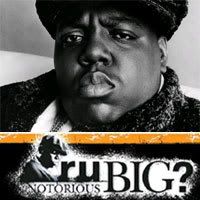 After a long and exhausting nationwide search that included desperately reaching out to the Internet and any plus-sized homies vaguely resembling a famous 350 lbs rapper, the long-gestating Notorious B.I.G. biopic has found its man.

The Fox Searchlight film project, "Notorious," has cast Jamal Woolard, aka the Brooklyn-based rapper Gravy, to play rap icon Biggie Smalls (Christopher Wallace), a.k.a. the Notorious B.I.G., in its upcoming biopic.


Name actors like Derek Luke (David Mamet's "Spartan"), Angela Bassett and the young thespian heavyweight Anthony Mackie ("Half Nelson") have all been cast in the film as well.

Luke will play Sean 'Puff Daddy, Diddy' Combs, the BadBoy impresario and record executive who helped launch Biggie's career with 1994's classic debut Ready To Die. Mackie will play his West Coast rival Tupac Shakur (holy shit!) and Bassett will play Big's moms Voletta Wallace.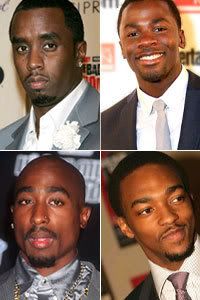 Not a total unknown, Gravy released a number of indie hip-hop albums before being signed to Warner Bros. in the late '90s, but made headlines in 2006 - and perhaps is best known for - when he was shot in the buttocks outside the infamous New York hip-hop radio station Hot 97 and finished his appearance on the show before being taken to the hospital. A few weeks later he was banned from the show by host Funkmaster Flex.

OK, we've been extremely skeptical about this project from the get-go, but wow, this top notch casting news is unexpected and fucking phenomenal.

Now the things we have to worry about are this allegedly, mediocre script that leaked and whether Gravy can act or not.

Nah Right reminds us that Gravy was rumored to be in line for the role nearly two years ago, which make us all think : what was the point of auditioning every overweight hustler under the sun? Maybe cause Gravy wasn't quite right and they wanted to continue their search for the perfect match?

Gravy admitted even in May of 2006 that he and Biggie didn't share too many similarities aside from looks. "Look at me, let's be honest here," Gravy, told MTV. "I don't sound nothing like him, but people stop and look and be like, 'Look at his stomach! Look at this nigga. Damn!"

George Tillman Jr. ("Soul Food," "Barbershop") has been tapped to direct. Principal photography has been scheduled for a March 24 start according to a press release for the film. Joining the cast are mostly newcomers including former 3LW member Naturi Naughton, Dennis White, Julia Pace Mitchell and Antonique Smith, who's a dead-ringer for a young Faith Evans.

The film is already set for a January 16, 2009 release date.

Download: Notorious B.I.G. - "Ready To Die"
Download: Notorious B.I.G. - "Things Have Changed"
Watch: Gravy featuring Akon - "About Me"
Watch: Gravy freestyle
Watch: Gravy on the "Smack" DVD