While we were sleeping, staying on the wagon, complaining about Spike Jonze sycophants and enjoying our weekends, the "Chicago 10" soundtrack came out (as did the movie).

Released on February 19, the soundtrack features rebellious agitprop tracks by the Rage Against The Machine, Black Sabbath, Steppenwolf and recontexualized songs by the Beastie Boys, Eminem and Billy Preston (the latter being rather popular these days as it was used in "Be Kind Rewind"). By recontexualized, check out the clip of the film below where the Beastie Boy's "Sabotage" is used in an anti-war demonstration during the 1968 Democratic National Convention in Chicago.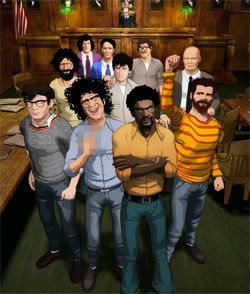 Which brings us to what the "Chicago 10" documentary is all about. Let's go to the synopsis: "'CHICAGO 10' explores the build-up to and unraveling of the Chicago Conspiracy Trial of Seven activists set up as scapegoats by The Government of the 1968 Democratic Convention demonstration against the Vietnam War" which included famous '60s dissidents Abbie Hoffman and Black Panther Bobby Seale. And our course it's all done in a unique style: archival footage, intercut with motion-capture animation and yes, modern music to feel historically accurate, yet relevant today.

'10' was directed by Brett Morgan , the multi-media animator that helmed "The Kid Stays In The Picture,"who is planning on creating an upcoming mixed-media Kurt Cobain documentary that comes with Courtney Love's blessing apparently.


Wait, let's go back. Why is it called the Chicago 10 and not the Chicago Seven (or Eight)? "Before Black Panther Bobby Seale's case was separated from the others, the Chicago Seven was the Chicago Eight, and director Brett Morgen thinks that because both of the defense lawyers were cited for contempt, they should be included, too," NPR succinctly explained.

Morgan defended his choice of putting contemporary music in film about past historical events. "The movie is not about 1968," he told Vulture. "There's no context. There's a war going on, there's opposition to the war, and there's a government trying to silence that opposition. Basically this is a movie about today, so the soundtrack is the soundtrack of today, of my life, rather than my parents' generation's life. And also I just don't think we really need another documentary featuring "For What It's Worth" by Buffalo Springfield." [ed. he's got a point.]

The voice cast of the film is impressive too and features people like Hank Azaria, Nick Nolte, Mark Ruffalo, Jeffrey Wright, Liev Schreiber and the late Roy Scheider.

Oh, and PS: that cool looking "Chicago 10" album cover and movie poster? It was basically the last thing artist Jeremy Blake created before he committed suicide.

Chicago 10 Original Soundtrack tracklist
1. Nothing From Nothing ~ Billy Preston
2. Sabotage ~ Beastie Boys
3. Fighting Side Of Me, The ~ Merle Haggard
4. Moonlight Becomes You ~ Harry James Orchestra
5. Kick Out The Jams ~ Rage Against The Machine
6. Down The Street ~ Rage Against The Machine
7. Wake Up ~ Rage Against The Machine
8. Monster Suicide America ~ Steppenwolf
9. TB Sheets ~ Van Morrison
10. Mosh ~ Eminem
11. War Pigs ~ Black Sabbath
12. Righteous Dub ~ Long Beach Dub All Stars/Barrington Levy
13. Waterfall Dub ~ Gregory Isaacs
14. Four Seasons, The (Spring) ~ Vivaldi

Watch: "Chicago 10" scene soundtracked to the Beastie's "Sabotage"

Watch: Bobby Seale argues with Judge Julius Hoffman

Watch: "Chicago 10" trailer