The "coming-of-age-late" roadtrip indie comedy, "Backseat" is set for release this weekend will feature an eclectic group of songs by indie faves Andrew Bird, !!!, Pretty Girls Make Graves and The Sea And Cake guitarist, Archer Prewitt.

Directed by Bruce van Dusen (writer/director of the '80s Sundance fave "Cold Feet"), the film chronicles a prolonged adolescence about two slacker friends (newcomers Josh Alexander, Rob Bogue) and their buddies who forge a cockamamie plan to seek out their favorite actor Donald Sutherland in Montreal and the encounters they meet along the way (unbeknowst to some of them, their car is filled with a trunkload cocaine; one of the duo's cousin works in a restaurant allegedly said to be Sutherland's favorite).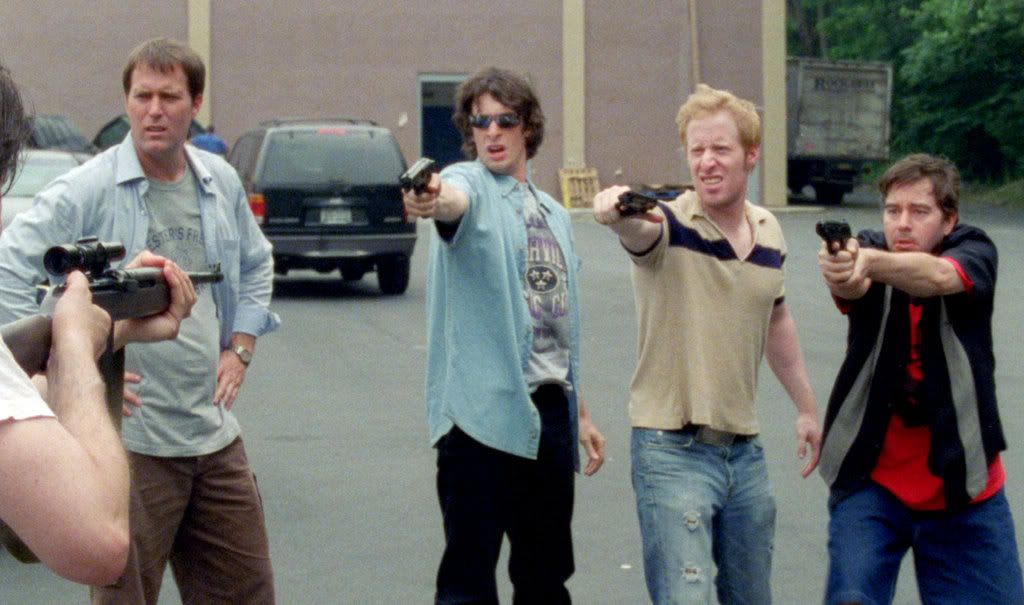 The director conceived of an indie-rock soundtrack from the get-go and tapped his appropriately college-age son to make him a mix CD. Excited by the music he curated, the director soon discovered that many of the bands were ones his son new personally from college. "Yeah, Dad," he said at one point. "That band lives in my dorm." Then well known indie label owners and film music supervisors Jonathan Fine and Glen Caplin (supervision for the tastefully curated, "Manic"), were brought on board to fill out the signature sound. B.C Smith, who produced some of the music for the indie-friendly "The United States of Lealand," (score by Jeremy Enigk of Sunny Day Real Estate), also composed the score for "Backseat."

The film also features lesser known acts like Brooklyn-based electro rockers Zigmat, Boston rockers the Downbeat Five, Chicago power-pop singer, Kevin Tihista and freak-folky, Brooklyn act Currituck Co.


Shot at a blistering pace over 17 days on a hand held super-16mm, "Backseat" was very-much an independent affair, but it didn't prevent the filmmakers in attempting to make more than your average indie comedy. "My goal was to bring out all the weird twists and turns that would make it more than [just a comedy]", director van Dusen said. "There is always something tragic in what makes us smile. I thought I could keep both the darker and lighter aspects of the story and characters in full view."

Why Donald Sutherland? Was the actor a huge personal hero of the directors? Yes and no. From a story perspective, I wanted to settle on an actor that was both iconic and yet also oddly specific. I like the fact that audiences immediately wonder "why Donald Sutherland" and I like the fact that [main character's] reasons are actually incredibly personal and have very little to do with Sutherland as a performer and much more to do with the moment in his life."

"Backseat" comes out in limited release tomorrow (Friday March 27). The trailer (below) features Currituck Co.'s "Antichrist" and Kevin Tihista's "Freakshow." Lastly, we're told why there is no soundtrack disc yet, there could be further down the road.

BACKSEAT playlist
"The Grandmother Wolf" - Pretty Girls Make Graves
"Old Guitar" - Quintus
"Dear Can" - !!!
"Way of the Sun" - Archer Prewitt
"Rabbit" - Goldcard
"Skin" - Andrew Bird
"Light of the Moon" - Zigmat
"When I'm Alone" - Joe Alley
"Let it Go" - De' Storm
"I'm Not Waiting" - The Downbeat Five
"Freight Elevator" - The Rogers Sisters
"Freakshow" - Kevin Tihista
"Antichrist" - Currituck Co.
Original Music - BC Smith



Watch: "Backseat" trailer