Finally, we have realized we don't have to carry the entire proverbial load when it comes to entertainment. For years we've innovatively pinched television programs like, "The Office," "Big Brother" and countless game shows ("Who Wants To Be A Millionaire?", for one) from the United Kingdom, so why not do the same for a film?

As such, we are treated with a re-packaged version of "Hallam Foe" (2007) now entitled, "Mister Foe" that stars Jamie Bell (of "Billy Elliot" fame) in the lead role and seems to emphasize the proto-typically indie-film charming outsider with the troubled past who seeks love despite his eccentricities (shade of a Scottish "Catcher In The Rye"). Claire Forlani plays Hallam Foe's step-mother, with whom he has some sort of tryst that causes his father to throw him out. Undeterred he shacks up with some little blonde number (Sophie Myles) that finds his sorted affairs and oedipal complex attractive. Ewan Bremner appears in the trailer long enough to declare the new title, "Mister Foe," in a fantastic Dickensian accent.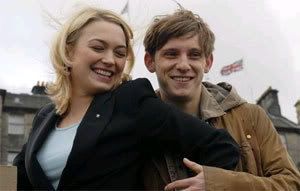 Overall, the film looks interesting and should appeal to the art house hipsters, pseudo-intellectuals and the creepy perverts-who-fantasize-about-their-step-mothers. We'll be tuning in to see if that nation across the pond has anything else to offer besides tea and those mop-topped lads from the Ed Sullivan show.


Trailer songs: Appropriately, the driving opening song is "Blue Boy," from seminal Scottish indie-rockers Orange Juice. The second song played in the trailer is "Here On My Own" by U.N.P.O.C. another band who have caught on to the idea that lo-fi can be beautiful.

Domino Records were commissioned to put the soundtrack to this film together and as you might expect, they picked an eclectic list of artists conveniently already on the Domino records label roster like Psapp, Juana Molina, Clinic, Junior Boys and Franz Ferdinand who wrote an original song for the film, ("Hallam Foe Dandelion Blow"). How about that? Is that the way soundtracks are going to be curated in the future from one label that can license is all in one fell swoop? Don't be surprised if you see more of this trend.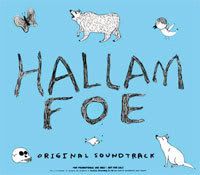 While the film and soundtrack release date keep getting pushed back in the U.S. (the film was supposed to come out March 12), one can still score the soundtrack on import via Amazon if they so wish and we're told Domino will release it stateside later this year (likely whenever the film can secure a firm release date). The album art will of course change to reflect the new title, but we can safely assume the tracklist will be the same. The film has a small, infrequently updated blog for those that want to peruse for more (warning many past links are dead).

Update: the film now comes out June 6 in the U.S.
"Mister Foe" tracklist.
1. Orange Juice – Blue Boy
2. U.N.P.O.C. – Here On My Own
3. King Creosote – The Someone Else
4. Sons And Daughters – Broken Bones
5. Junior Boys – Double Shadow
6. Clinic – If You Could Read Your Mind
7. Future Pilot AKA – Battle At The Gates Of Dub
8. Hood – Lines Low To Frozen Ground
9. Franz Ferdinand – Hallam Foe Dandelion Blow
10. Psapp – Tricycle
11. James Yorkston And The Athletes – Surf Song
12. Bill Wells Trio – Also In White
13. Juana Molina – Salvese Quien Pueda
14. Cinema – They Nicknamed Me Evil
15. Woodbine – I Hope That You Get What You Want
16. Movietone – Ocean Song


Listen: Franz Ferdinand - "Hallam Foe Dandelion Blow"

Watch: Mister Foe trailer


Contributor Ryan Tidd wrote this review. The Playlist made the soundtrack notes.