Ah, to capitalize on that which sells well. You might of expected it, right? The "Juno" soundtrack had the highest charting Billboard release in Rhino Records history and sold a boatload of albums for the tastemaking archivist label, so it's not a huge surprise that a veritable 'Juno II' disc is being released two months after the disc was #1 on the charts.

April 8 will see the Itunes exclusive/digital-only release of Juno B-Sides: Almost Adopted Songs, a 15-song collection of songs, including one song by "Juno," star Ellen Page.

It's unclear if these songs were on the shorlist for inclusion or someone at the label tapped director Jason Reitman on the shoulder and said, "psst, pick 15 more songs, we're making a killing!," but in a statement, the filmmaker said, "None of these songs made the movie, but they are all essential members of the Junoverse," and some of the songs from Mateo Messina's original score are included so it's not entirely disingenuous (though a press release later in the day says, the songs were originally "intended for the film [but] were cut").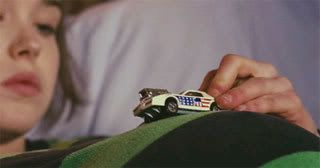 Kimya Dawson, the prominent musical voice of the film returns with three cuts including a cover of Barry Louis Polisar's "All I Want Is You," which was featured in the trailer and on the initial soundtrack disc. "There were only so many Kimya tracks that could be in the movie, but it always broke my heart that this one didn't make it," Reitman said. "['Viva la Persistence'] is such a playful track and a joy to listen to live."

Polistar, Belle & Sebastian and Buddy Holly all make another appearance on this second disc and musical newcomers include, Yo La Tengo, Boston girl group, the Bristols, Mexican act Trio Los Panchos, and Brazilian bossanova songstress Astrud Gilberto.

Page sings the song "Zub Zub," a track written by the film's screenwriter Diablo Cody for a scene that was cut out of the movie, but is on the "Juno" dvd in the deleted scenes extras where Page's character not-so-subtly rips into Michael Cera's character and his inability to cope with her pregnancy (you can watch it below). The scene may have been excised from the film, but it was one of the director's favorites. "I just remember directing with my daughter strapped to my chest in a BabyBjorn (baby carrier) and the whole crew watching on as Ellen noodled around on guitar."

You can pre-order the soundtrack on Itunes now for $9.99. If you can't access Itunes for whatever reason, the album will be available through all digital service providers on May 13.

Juno B-Sides: Almost Adopted Songs tracklist
1. Twentieth Century Fox Fanfare - Kimya Dawson/Matea Messina
2. Me and You - Barry Louis Polisar
3. My Wandering Days Are Over - Belle & Sebastian
4. Kite - Mateo Messina
5. Viva la Persistence - Kimya Dawson
6. Little Baby - The Bristols
7. I'm Into Something Good - Jr. James & The Late Guitar
8. Meet The McGruffs - Mateo Messina
9. Once I Loved - Astrud Gilberto
10. All I Want Is You - Kimya Dawson (solo)
11. Learning the Game (single version) - Buddy Holly
12. Meet the Lorings - Mateo Messina
13. Besame Mucho - Trio Los Panchos
14. You Can Have It All - Yo La Tengo
15. Zub Zub - Ellen Page

Download: Yo La Tengo - "You Can Have It All"

Watch: Ellen Page sings "Zub Zub" in deleted "Juno" scene