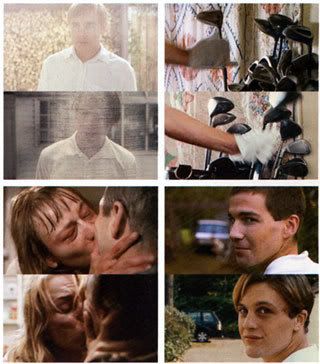 Given half a chance to remake their own movie, most filmmakers would likely fix the cinematic elements they weren't completely pleased with on the first go-round. After all, all art is abandoned rather than finished, no?

But it's a rather perverse testament to the sick nature of Austrian filmmaker Michael Haneke ("Caché," The Piano Teacher") that he changes nothing; in fact he remakes the film exactly shot-for-shot only with "American" actors in English (the original was an Austrian/German production made in 1997).

This is the cute conceit of the "Funny Games" remake, but it's not without complete reason. Made a decade ago as a (rather contemptuous) response and rebuke to American violence as entertainment, the film was barely seen by U.S. audiences because of its foreign descent and language.

So what's the premise of this painstakingly re-made xerox for the West?

Well, for no reason - outside of sadistic satisfaction - two polite, fey and mannered boys (Micheal Pitt and Brady Corbet) take a bourgeois family hostage in a home invasion (Tim Roth, Naomi Watts) and begin to systematically torture them ... for kicks and because they can.

Haneke not only eliminates any reason behind their motivations, he deliberately mocks the notion of examining "reason."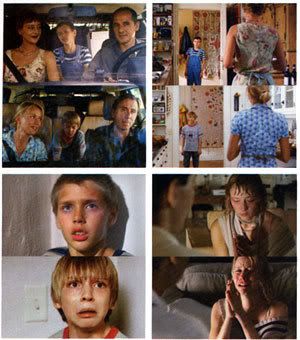 The senselessness of it all is the point. The problem is, his righteousness, mostly humorless and pedantic tone gets the better of him and the film is nothing but a deliberately cruel, tortuous and brutal exercises is complicity.

Its akin to being gently invited into a room, only to have the door slam violently shut behind you and all you can hear is maniacal laughter.

But rather than simply trap audiences as voyeurs for two hours in this horrible experience, the director mischievously (and arrogantly) breaks the 4th wall, talking to the audience through his terrorizing characters, teasing them, taunting them and trading sly fuck you grins at the camera. There are those that squeal with active delight over these scenes, get a meta boner and get in a huge lather thinking about the psychological implications, but we're not with it, sorry.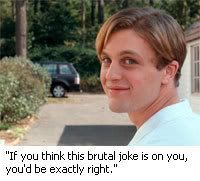 Hence the infamous "rewind shot," that many believe is the entire crux of the film, but it's just really more malicious insult to injury.

When the audience feels a brief glimmer of hope (Watts gets a hold of a gun), the ensuing events are snatched away - defying all reason, logic and natural order - when said events are rewound by a remote control.

It's outrageous absurdity and just hammers home the point of relentless doom that was rigged from the beginning with no possible alternative (even more meta-ironic considering it's a remake and we know how it ends). The questionable move is a media studies grads wet dream about the nature of participation through viewership, but with a not-so-subtle air of vengeance and scorn for those watching. Some will argue the films satirical merits, but the joke is mostly on the audience.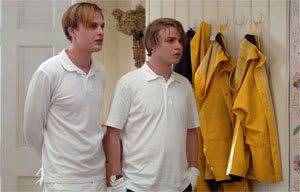 There is brilliance within. The performances are excruciatingly real; Haneke creates a terrifying psychic violence by never actually showing any of the brutality onscreen; all you see is the terrorized reactions and ferocious mental impact.

And while there are cerebral and academic joys to be found (and at times all you can help but laugh at the twisted absurdity of it all), there also a huge self-fellating onanism happening by remaking your own film with this clinically misanthropic precision.

What's worse: you can't criticize the film for being manipulative because its very specific aim is to manipulate is to make you feel uncomfortable, brutalized, whipped and emotionally tortured.


Those that claim the filmmaker is the distant elder statesman of torture porn might be half-right, but he's operating at a psychological level that reduces these T-porn followers aims to feel about as sophisticated as kids melting their action figures with a lighter.

On some sick level you have to admire the perverse audacity and the sadistic tenaciousness and commitment that Haenke has to one horrible singular vision.

Having seen the original, one can slightly appreciate the film's grotesque goals, but in many ways its akin to "Se7en"s insane serial killer played by Kevin Spacey and his disturbed head-in-the box plan - it invites study and and aghast puzzlement rather than any kind of enjoyment.

If the grand and grotesque intention is to shock, scold, astound, provoke and inflict psychic misery with deliberate aggression than the film succeeds in spades.

But at what cost? With no answers to be found in pointless questions raised, the viewer is left to sit, stew and marinate without any satisfaction or conclusion. And that's the intention! OK, you've won. You proved life is miserable and pointless. Are you happy? A twisted funny game indeed.

Haneke has said that 'Games' is/was the only film he made with the specific intent of provocation, but it's the aggressively didactic nature of his ridiculing reproach that tipped the scales when it was first made. And it just wasn't that good to begin with.

Original: [C] Remake: [C+]

Postscript: Here it is: your average Joe job - if they even see this film - is going to loathe it, but if you have even the slightest sense of media consciousness, you're going to feel your intellectual synapses fire up and come to life, even if you find it repugnant and that's saying something.