It's taken Kimberley Peirce nine years to complete the follow-up to her Academy Award winning indie debut, "Boys Don't Cry" (which made a star of horsefaced Hilary Swank and gave Chloë Sevigny a brief brush with the mainstream and afforded her the chance to hang out with those lacking drug-dependency issue).

You could be making a musical about Jesus Christ's apocalyptic war on anti-abortion activists as fought by his legion of transsexual warriors, but the first thing the media will ask you after a prolonged nine-year-absence is, "where the hell have you been for nine years?"


The New York Times wouldn't be above this either (and in this case we can say we don't blame them) and have done a rather splendid job of charting all the stops and start, failed projects that Peirce tried to attach herself to on the road to her upcoming personal Iraq war soldiers film, "Stop-Loss" (which stars Ryan Phillippe, Channing Tatum, Joseph Gordon-Levitt and Abbie Cornish who acted alongside Heath Ledger in the little-seen 2006 film, "Candy").

"Yes, I should have made a movie sooner. Yes, I should be a lot richer than I am. Mea culpa," Peirce, now 40-years-old, joked to the Times apparently having earned one directing credit during her almost decade-long absence from filmmaking — an episode of "The L-Word."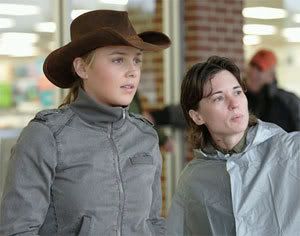 Hollywood isn't the easiest place to traverse and the director had a bunch of projects on the go at one time they failed to get off the ground including an adaptation of Dave Eggers' "A Heartbreaking Work of Staggering Genius" (they met twice it didn't go anywhere), "Memoirs of A Geisha," (she briefly entertained the idea of directing it) "Silent Star," a screenplay not unlike "Hollywoodland," based on an unsolved murder within Tinseltown (it had Evan Rachel Wood and Annette Bening attached at DreamWorks but fell apart over budget issues) and an adaptation of the Gothic south short-stories book "The Ice at the Bottom of the World," which also didn't pan out ("I got offered millions of dollars, many different movies. But it's like starting to run before you're ready to run. You're still the same. You're looking for emotional truth in your directing," she said).


However, she did hit it off with 'World' author Mark Richard and she eventually enlisted him to be her co-writer on "Stop-Loss," a film they did a whopping 65-drafts and edited right up until and during filming.

In the film, Phillipe plays a soldier who returns to his Texas home a golden-boy war hero, but is faced with being sent back to the Middle East under a "stop-loss" order - a controversial and routinely used directive involuntary extending ones military service after it has been officially fulfilled - or a "back-door draft" loophole as it its known.


Peirce came to the story in 2005 when her Iraq-war-enlisted half-brother came back and would tell her about his friends who were "being sent back for third, fourth and fifth tours of duty." His experiences and the text and video messages had already spurned her on to write a script based on American soldiers' experiences, but when she heard all about the, basically illegal, or at least completely unfair, stop-loss measure, her vision for the project changed.

Pierce struggled with the film initially, but the stop-loss order gave her a new conflict to pose. "If we could stay with a soldier who was severely patriotic and then had a change of heart, but was still conflicted, it was much more interesting.It's a very different debate than the people who don't want to fight at all."


In the film, Phillppe's character goes AWOL and on the run with his best friend's (Tatum) fiance (played by Cornish, who he left his wife Reese Witherspoon for).

The Times notes that MTV is marketing the film to teenagers in a hip-fashion, but after the decidedly feeble success of war films in 2007 — In The Valley Of Elah," "Grace Is Gone," "Redacted" all did extremely poorly at the box-office - the director's not mad at that kind of direction.

"This war is a very young experience, and our film speaks absolutely to youth. No one else is giving these guys a voice," she told the paper. "Stop-Loss" hits theaters this Friday (March 28) and despite ignorantly attacking its trailer with knee-jerk fervor (we just hate the fucking Drowning Pool song), we thought it was a pretty powerful film.

Trailer: "Stop-Loss"