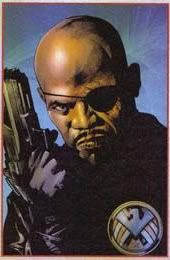 So, we saw "Iron Man," this weekend and before we write a proper review we wanted to note a few cameos that were supposed to be in the film that went M.I.A. (and were likely left on the cutting room floor.)

It's not as important to us, but to the superhero movie-going geek populace, it's surely big news to note that the rumored (and then confirmed) cameo of Samuel L. Jackson as S.H.I.E.L.D's Nick Fury was notably absent from the final cut. Marvel head Avi Arad had let the cat out of the bag that Jackson would be in the film, ("The Sam thing was supposed to be the biggest secret of them all," he told MTV in July '07. "It's amazing how it got out.") but then reports surfaced in mid-March that Jackson's bit might have been cut though the reports weren't confirmed. Until now that is.

We imagine that scene was left on for length or it just didn't gel with tone (presumably it'll be on the DVD). We're sure the news will eventually come out either way. S.H.I.E.L.D is represented by actor Clark Gregg, but Jackson is nowhere to be found.


To us the more glaring missing cameo was of our fave Wu-banger Ghostface Killah who had confirmed to MTV back in November of last year that after some campaigning on his part (or at least being publicly vocal about his potential exclusion), that Favreau had cast him in a small cameo alongside Robert Downey Jr., but he was also nowhere to be seen (The reason Ghost would be there at all? The rapper is a huge Iron Man fan, naming his first album Iron Man and adopted the alter ego of Tony Stark as one of his many rap aliases).


However, Ghost was at least represented via song with the track, "Slept On Tony With Dirt," in a party scene aboard Stark's private jet (which we're pretty sure was a new song written for the film, seeing as it's not on any of his previous albums).

And yet another cameo that didn't happen? One by Hillary Swank (though what her role was supposed to be was unclear; some speculated another S.H.I.E.L.D agent)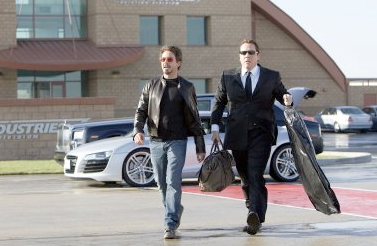 However, one cameo that we didn't expect, but did catch was that of Rage Against the Machine/Audioslave guitarist and political activist Tom Morello whose olive skin and and Mediterranean-like features (he's actually of Kenyan/Irish descent) were evidently enough to get him cast as a member of the terrorist insurgents with Al-Qaeda like beard and all.

Morello Ads Guitars To Iron Man
His appearance was super brief and its no major spoiler to say he meets his demise (and or is at least hospitalized) at the hands of the original, gray proto-Iron Man suit Stark creates to escape his captors (Morello also had a cameo in "Made," so the two go back and this also further explains Audioslave in the trailer). Morello actually contributed to some of the guitar-heavy score composed by Ramin Djamadi.


In a role slightly bigger than a cameo, "Iron Man" director Jon Favreau cast himself as Tony Stark's driver/body guard Harold "Happy" Hogan.

Update: An interview today at Rotten Tomatoes suggests Favreau took out the cameos to defy audience expectations. "[Hardcore fans are] able to piece together what's going on and what you don't want to have happen is have everyone figure out what's in the movie before it comes out. Sometimes you have to acknowledge the anticipations and sometimes you have to go against them. You never want the audience to be ahead of you, because you always want some surprises up your sleeve," he said.

Final Updates: Yes, this turned to be false.The filmmakers purposefully tried to dupe critics who got into early screenings like us and they succeeded, but unless Hilary Swank and Ghostface were added into the film for the public, those cameos were definitely cut.
Further reading:
'Iron Man' Cameos - In or Out? Questions Remain Over Sam Jackson's Nick Fury - For Paying Audiences Only?
Guess Again. Samuel L. Jackson IS In 'Iron Man'
Big Spoiler: Watch The 'Iron Man' Ending With Sam Jackson As Nick Fury