Ellen Page's latest film, the Canadian production, "The Tracey Fragments," is finally coming out in the U.S. on May 9 via ThinkFilm and the movie has a soundtrack hitting shelves April 29 May 13 (Lakeshore goofed on their date).

As we previously reported months ago and reminded just again recently when the U.S. release was announced, Broken Social Scene composed the score for their friend, director Bruce McDonald (director of the classic pseudo rockumentary "Hard Core Logo"; the filmmaker also recently shot a documentary for Brendan Canning's self-titled Broken Social Scene series solo album that comes out June 22 on Arts & Crafts) .


Though BSS have done multiple scores before ("Snow Cake," "Half Nelson," MacDonald's "The Love Crimes of Gillian Guess,") none of them have ever been released until now (*the exception being, 'Nelson' but that was primarily previously released material). We were hoping a full-on score disc would finally happen come out and our wishes have been answered. The Social Scene contribute four new pieces of music to the disc including a cover of Patti Smiths "Horses" featuring Land of Talk's Liz Powell on vocals (or at least it's sort of BSS, it's Brendan Canning, Charles Spearin and Damon Richardson [formerly of Danko Jones] is the backing band on that track with Powell; the fifth BSS song "hHallmark" is from Bee Hives).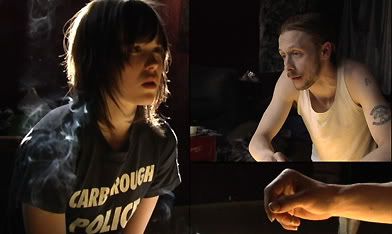 Just like her musical influence over "Juno" (it was she who hipped director Jason Reitman to the Moldy Peaches) Page's enthusiasm for Patti Smith's Horses turned the title song into one of the film's major metaphors (Powell and BSS covered the track because Smith's original was too cost-prohibitive.)

"There's that genre of teenage angst film, and this is kind of an explosion of that genre," McDonald told the CBC last October describing what makes the film unique. "Maybe the genre makes people feel slightly at home. They say: 'I know this, it's sort of familiar.' But the dream is very different this time."


Page shot 'Fragments', after "X-Men 3" and before she became the indie in-demand indie IT girl she is today, but McDonald sees that as fortuitous. "I'm thrilled because it's going to lead people to our film. She's going to be on the cover of magazines and talk shows, and then there's this other thing she did, our crazy art film," he said.


"Getting Broken Social Scene to do the score, getting Ellen Page to be in it — these are very calculated decisions to say: We know this is kind of crazy experimental, but at the same time, we don't want anyone to feel stupid."

The 11 track soundtrack disc also features Vancouver singer/songwriter Rose Melberg, Toronto outré rockabilly punks Slim Twig and Neko Case-associates the Deadly Snakes, Montreal punk outfit, Duchess Says, and T.O indie-pop duo, Fembots. The film also features tracks by Patti Smith and pottymouth electro-rocker Peaches. You don't want to spoil it for yourself too much, but take note, most of "The Tracey Fragments" is already up on YouTube in chunks. One such segment is below.

There's also an ad-hoc "The Tracey Fragments" myspace page up which has the aforementioned cover of "Horses," one track by Drugstore and another uncredited track called, "17" which sounds like another Social song, but both tracks aren't on the CD (the real myspace page is here). Additionally, we're told that the Land of Talk singer Powell guests on two tracks of Canning's aforementioned Social Scene solo album including the first single, "Hit The Wall."

"The Tracey Fragments" tracklist
01. Horses - Broken Social Scene
02. Ccut Upp - Duchess Says
03. Don't Wanna Be Your Man - Fembots
04. Each New Day - Rose Melberg
05. Drop In The Mercury - Broken Social Scene
06. Who's Gonna Know Your Name (666) - Fembots
07. Gate Hearing! - Slim Twig
08. Oh Lord, My Heart - Deadly Snakes
09. Hhallmark - Broken Social Scene
10. Gone Or Missing - Broken Social Scene
11. Needle In The Head - Broken Social Scene

Download: Broken Social Scene "Da Da Dada" (from Feel Good Lost and the "Half Nelson" soundtrack)
Watch: "Tracey Fragments" trailer

Watch: "Tracey Fragments" scene

Watch: "Snow Cake" Trailer (scored by Broken Social Scene)


PS, Jeffery Wells says much of the film is displayed in "Mondrian-like split screens" and McDonald said he shot it in a way which returns to his film school roots, so it could really be something semi-experimental. Dying to see this, someone shoot us a press contact, we can't seem to find.

"Part of the promotion for the Canadian release, the distributor released all of the original footage as downloadable torrent files and encouraged people to re-edit the footage into whatever they saw fit...this is believed to be the first theatrically-released film to make its footage available in such a fashion....entries ranged from music videos to a complete re-edit of the film in linear order, without split screens."