Despite being championed by David Gordon Green and scored by our pal Ola Podrida's David Wingo and starring semi-hirsute indie-rocker Will Oldman (of the lovely "Old Joy" film and Bonnie Prince Billy), we somehow missed Todd Rohal's "Guatemalan Handshake" when it was in theaters (probably because it played the rinky-dinky *IFC center for like half a week).

Our friends at Spoutblog remind us that it came out on DVD yesterday and that we should all see it (top of the netflix queue right now; if you order it on the Handshake site you get a bonus disc of Rohal's shortfilms).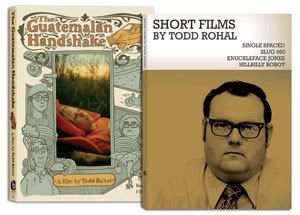 The synopsis:

In the confusion following a massive power outage, an awkward demolition derby driver vanishes, setting in motion a series of events affecting his pregnant girlfriend, his helplessly car-less father, a pack of wild boy scouts, a lactose intolerant roller rink employee, an elderly woman in search of her lost dog, and his best friend – a ten-year-old girl named Turkeylegs.

Pieces of the mystery begin to come together as Turkeylegs sets out to find her missing friend. Cars drive circles in the dirt, a woman attends her own funeral, the sun rises sideways and an orange vehicle trades hands again and again. Everything eventually culminates in a massive demolition derby that throws all of the characters into different directions.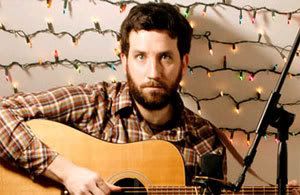 DGG did want to make a demolition derby film once, so it stands to reason why he liked it so much (and reviews say it has a very similar tone to the atmospheric "George Washington").

The ghostly-like song in the trailer (or at least ghostly in this context) is "Inchworm", a song originally performed by Danny Kaye in the 1952 film "Hans Christian Andersen."

In an interview with David Wingo, the 'Handshake' composer (who's also scored all of Green's previous films) said that Green championed the film even before he was tapped to write the music for it. "David had really hyped it up, so... I was almost expecting a letdown.. but I was not let down. Todd wanted to emphasize the melancholy under the surface. I always get excited when I can do music that's not necessarily what's happening onscreen. I like the challenge of finding the subtext of a scene."

DGG isn't the only one to champion the small, indie film, Jared Hess ("Napoleon Dynamite," "Nacho Libre") said it was "a revelation...[it] holds a place in my heart that is normally reserved for Easter candy."
--
*We like the IFC Center a lot actually, they play and endorse a lot of great, smaller films, but the problem is they only play there and sometimes it's not the easiest place for us to get to [ed. waaah]

Watch: "Guatemalan Handshake" trailer

Watch: Old Podrida - "Lost & Found" (directed by Todd Rohal)