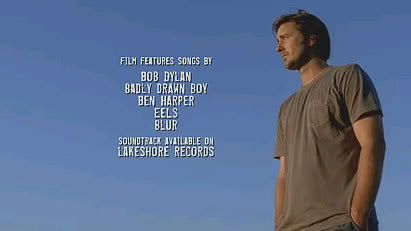 Sometimes it pays to watch trailers and pay attention.

This summer's indie-flick "Henry Poole Is Here" will feature songs by Bob Dylan, Badly Drawn Boy, Ben Harper, Eels and Blur (sounds like the StereoVegan wheelhouse). We know this because we used our eyes when watching the trailer (see above).

But let's back up a bit.

So Mark Pellington used to be a music video director - he made his name directing Pearl Jam's most famous video, "Jeremy," and also lensed lots of famous clips for NIN, Foo Fighters, The Flaming Lips and Alice In Chains - then he went on to make direct "U2 3D" and a bunch of other crap ("The Mothman Prophesies"). This summer will see the release of his Sundance '08 hit, the quirky-looking "Henry Poole Is Here," (the new poster of which, MTV just revealed, see below).


The synopsis that tells you nothing:

Luke Wilson ("The Royal Tenenbaums," "Old School"), Academy Award nominee Adriana Barraza ("Babel") and Radha Mitchell ("Finding Neverland") star in a modern day fable about the unexpected wonders of the everyday from director Mark Pellington. Henry Poole is Here tells the funny, poignant and uplifting story of a disillusioned man who attempts to hide from life in a rundown suburban tract home only to discover he cannot escape the forces of hope.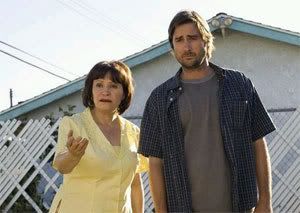 The synopsis that tells you something, via us: Basically, a stain on the outside of Henry Poole's home looks like baby Jesus (or just regular JC) and people in the neighborhood start noticing. Then people in the neighborhood start making pilgrimages to Poole's home which annoys the depressed and bitter homeowner who then tries to scrub the stain off to no avail. Then bonafide miracles start to happen in the presence of the godly like stain and the film's magical wheels begin to start turning (or something like that).

How'd they get Bob Dylan for the film? Zimmy is actually friends with Luke Wilson. No seriously, or at least acquaintance buddies. Wilson starred in the Dylan-scripted "Masked & Anonymous" and when it came time for Wilson to make his feature-film directorial debut - the underrated, but innocuous "The Wendell Baker Story" - who was kind enough to OK four of his own songs? Why Dylan of course (including "I'll Keep It with Mine" and "When I Paint My Masterpiece" as covered by The Band).



Wilson was actually the first actor to sign-on for Dylan's 'Anonymous' pet-project and he actually worked for scale on the project (the bare minimum) which probably only endeared him to the singer all the more. "I'm a fan of Bob Dylan and the work he does," Wilson said in an interview around the time of that film's release. "That was the catalyst and then [he] got in touch with Larry. There was this incredible script, different from anything I've ever read. So that was really interesting to me, it made me want to do the movie if Larry [Charles] was kind enough to hire me."

Who else is in the movie, musically? Well, the trailer features "Believe" by the Bravery and details are right around the corner, we assure you (yes, that's a hint). The film evidently comes out in limited release on July 25.


Watch: Bob Dylan - "Standing In The Doorway" (from "Masked & Anonymous")