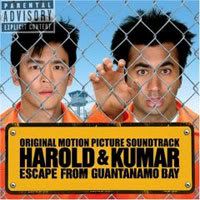 If the trailer is any indication, April could be a pretty good month for stupid comedy. "Harold & Kumar Escape from Guantanamo Bay," hits theaters April 25 and 10 days earlier on April 15, the surprisingly decent soundtrack is due both in digital and physical versions via Lakeshore records.

Featuring music from Mark Ronson, Ghostface Killah, Nate Dogg, Saigon, Ice Cube, Mickey Avalon, 311 , the synopsis for 'Harold & Kumar II' is this:

The same morning that Harold and Kumar eat at White Castle, Harold learns that Maria, the girl he lusts after, has set off for Amsterdam. The pair decide to pursue her so Harold can proclaim his love. However, an overzealous airline passenger mistakes Kumar for a terrorist, and the plane is diverted as the duo get stuck in a case of mistaken identity.
Stupid enough, right? The tunes on the disc are the base, fun-stupid hip-hop, especially the amusing "My Dick" by Mickey Avalon and "Pussy (Real Good)" by Jacki-O (a sometimes Ghostface collaborator too). The rest of the disc is rounded out by what will no doubt be idiotically/fun movie-music moments in the film by Poison, Boyz II Men and The Knux.

Not sure what else there is to say about it all, it ain't rocket science, just stupid LOLz, but 'H&K:EFGB' has a surprisingly strong 71% recommendation rating on RottenTomatoes currently. To see it or not to see it? Ask yourself, what would NPH do? You know in your heart, he holds the answer.


Harold & Kumar Escape from Guantanamo Bay tracklist
1. Ooh Wee - Mark Ronson featuring Nate Dogg, Ghostface Killah, Trife & Saigon
2. My Dick - Mickey Avalon
3. Cappuccino - The Knux
4. Check Yo Self (The Message Remix) - Ice Cube
5. My Stoney Baby- 311
6. Chinese Baby - Viva La Union
7. Nothin? But A Good Time - Poison
8. P***y (Real Good) - Jacki-O
9. It?s So Hard to Say Goodbye (To Yesterday) - Boyz II Men
10. In the Beginning - K?Naan
11. Gospel Weed Song - Bizarre
12. All That I Want - Curtis Murphy Syndicate
13. The Merkin Medley - George S. Clinton