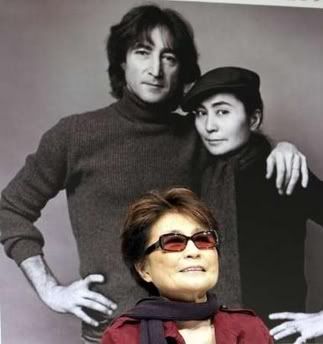 So yesterday, a blog from the Huffington Post reported that a Killers song and a John Lennon song ("Imagine" no less) were licensed for the what they called, "creationist propaganda" film "Expelled: No Intelligence Allowed." The article was called, "Yoko Ono Sells Out John Lennon To Creationist Manufactroversy," and the author was duly outraged over the fact both Ono and the Sin-City mormons had given their musical consent.

Members of the blogosphere, including us, reported it as fact, or at least reported that "according to the Huffington Post, ..." etc., etc. None of us really stopped to think about how implausible it might be for a second though (one of the drawbacks of quantity over quality in the blogging world, aren't we glad we had the foresight to file it under "random bullshit").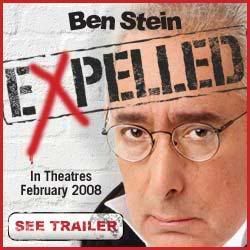 The film comes out this Friday which means it could be a little too late to change anything, but over at the Killers forum (you'll have to be logged in), the moderators of the official site and official messageboards insist the Killers know nothing about this film and were never officially approached to license the song. Are these just kids defending their fave pals or do they have official word from the band? It appears more than one thread has started on the message board on the subject and each one has been met with "they've never been officially approached" comments from senior mods.

Over at RichardDawkins.net (a well-known science writer and prominent critic of creationists and intelligent design), one reviewer (not Dawkins himself, he saw it, but his colleague apparently PZ Meyers was expelled from "Expelled," in fact when first interviewed for the film, Dawkins, Eugenie Scott, PZ Myers, and others were allegedly misled; interviewed under false pretenses and told they were being interviewed for a film called "Crossroads," about where science and religion met) Josh Timonen suggests neither Killer song ("All These Things I've Done") or Lennon song are being officially used or cleared.

"Either 'Expelled' has a disproportionately-large music budget (for how bad of a film it is), or they are using songs they haven't paid for in their Director's Cut private screenings (that may be changed before the official nationwide release). John Lennon's "Imagine" is played (original version) over B&W scenes of what looked like communist China, with a parade of soldiers. I remember a shot of Stalin saluting somewhere in here as well. The part of the song played was of course "...and no religion too...", implying that no religion equals communist China. Does Yoko know about this? I doubt she'd be pleased."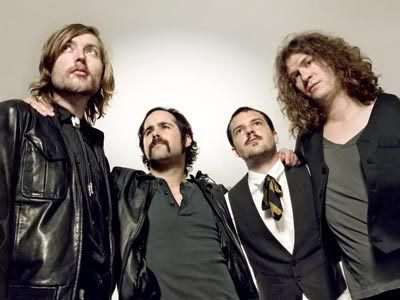 The Huffington Post never questioned the above graph/'Expelled' review and in fact used it as their blog thesis, but knowing how notoriously picky Ono is about Lennon/

Beatles

clearances and with the film having an apparently very-low budget, it stands to reason this writer is very-much on to something salient. The Dawkins writer continued his musical review.

"The Killers' song "All These Things That I've Done" was used at the end of the film. The part of the song used was the bridge with the lyrics "I've got soul but I'm not a soldier". I'm guessing that wasn't cheap, and I'm surprised that a fairly popular band like The Killers would want their reputation tarnished by being in a Creationist film - especially since this is THE song that the film ends with, very prominently. Maybe The Killers don't know about this, and someone should tell them?"
Cue the Killers' messageboard moderators who have been saying this all along. So were the songs just used in the director's cut private screenings (not unheard of, songs will change before their theatrical release)? Are the songs unauthorized and still being used and or did the Killers and Yoko actually license the songs?

OR

, just like Dawkins, Scott and Meyers, were Yoko and The Killer's people mislead about the films intentions? (Man, if so, we smell a

huuuuge

lawsuit). Wikipedia says the film's budget is $3.5 million,and though that sounds about right, that's Wiki and we shouldn't cite it as anything official,

but

keep in mind

Wes Anderson

's "

The Royal Tenenbaums

" had a budget in excess of $25 million and they couldn't clear Beatles songs for usage at the time.

The plot thickens, but wethinks the answer will now come out sometime tomorrow.

In related news, the Gawker science site

I09

is treading the very thin line between clever and stupid by facetiously concluding (in a very straight-faced, dry manner) that, "the makers of Expelled are engaged in a massive conspiracy to bring down Intelligent Design movement by pretending to advocate for it," because the film is

that

bad and poorly made. Additionally, XVIVO, the animation company which produced the award-winning animation "

The Inner Life of the Cell

," have charged producers of "Expelled" with copyright infringement. The "Expelled" blog also claims their film, evidently debuting on 1,000 screens, will boast the "largest U.S. opening of any documentary film ever," more than "

Fahrenheit 9/11

" which they claim only opened on 868 screens (the latter figure the

New York Times

corroborates).

According to IMDB, "Preview screenings for the movie were held for churches and other Christian groups months in advance, and by invitation only. After a movie critic was inadvertently allowed to view the film early, resulting in a negative review, a policy of requiring viewers to sign nondisclosure agreements was implemented at these screenings." Even FoxNews is frowning upon 'Expelled,' calling it "sloppy, all-over-the-place, poorly made (and not just a little boring) 'expose' of the scientific community," and possibly the end of Stein's career.

The trailer features

George Thorogood

's "Bad To the Bone." Was that cleared?