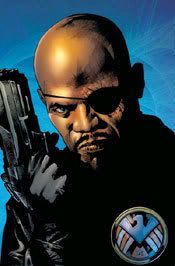 Last Saturday we were at a press screening for "Iron Man," and before we wrote our full-blown review we had to note that all the talked-about cameos in the film Samuel L. Jackson as S.H.I.E.L.D agent Nick Fury, Ghostface Killah and Hilary Swank were AWOL during the film.

We weren't the only ones that noticed the absence of these big-name cameos. This morning MTV wrote about seeing a similar press screening with no cameos whatsoever (even after the end credits). As they've noted though, a theory is evolving (one that's started to pop up in our comments section too) that web-savvy "Iron Man" director Jon Favreau purposefully removed the Samuel L. Jackson as Nick Fury cameo for press screenings so it would look like the small part was cut out but saved as a surprise for paying audiences starting this Friday.

MTV writes:

At the screenings we attended, "Iron Man" had a crisp conclusion followed by low-rent end credits simply showing the suit. It all seemed suspiciously simple. Even after the final name and the Marvel logo rolled, the press saw no additional fireworks.
Same for us, but as they point out, recent Marvel films like "X-Men 3" and "Daredevil" saved some important extra footage for after the end credits.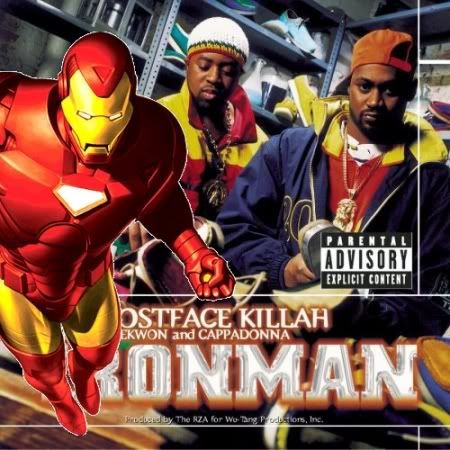 So where we purposefully duped? Sounds like it very well could be. Jon Favreau told Coming Soon about the cameos, "There [was] going to be a sequence between when Robert takes off to go to fight back in Afghanistan, where there's a whole party sequence in Dubai that we filmed that just felt like it just slowed the momentum down." This is the exact scene that Ghostface Killah was supposed to be in so at least we know he was definitely cut (and plus he wasn't in the screenings we saw).

The end credits rumor about Nick Fury comes from ComicBookResources.com. After attending a screening, columnist Rich Johnston wrote about the missing cameo. "I understand from British Film classification sources that the [Nick Fury] scene is in the print that they've approved for general release, but not in premiere or preview screenings, so as not to spoil the um ... surprise ... bugger. Anyway, he's recruiting for a group called 'The Avengers' " (yet another Marvel franchise they want to get off the crowd in the next few years, sewing the seeds?)


As for Hilary Swank? There's been next to nothing about her cameo aside from speculation what her role might be (another S.H.I.E.L.D agent? again, pure educated guesses) and our guess is she's definitely a DVD outtake, unless she somehow pops up on Friday after the credits with the alleged Sam Jackson scene.

In an interview with Rotten Tomatoes Favreau hints at trying to defy audience expectation (with last minute secrets?) "[Hardcore fans are] able to piece together what's going on and what you don't want to have happen is have everyone figure out what's in the movie before it comes out. Sometimes you have to acknowledge the anticipations and sometimes you have to go against them. You never want the audience to be ahead of you, because you always want some surprises up your sleeve," he said.

Favreau told MTV at one point. "As a filmmaker, we like to have some surprises left for the audience," he said. "I never confirmed that Sam Jackson was in the movie. People asked me about Hilary Swank. I will tell you this: I pay attention to what people are talking about. The Internet is a big watercooler, and we're all allowed to take a sip from the cup."

Time will tell on Friday, but we ain't going again, so make sure to post if/when you see it (or even better take a snapshot with your camera and send it to us! ;)