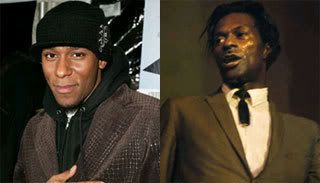 It was only a few weeks ago that we saw pictures of Beyoncé as Etta James in the film, "Cadillac Records," chronicling the rise and fall of the titular estimable Chicago 1950's R&B record label.

Now rapper/actor Mos Def has been cast to play o.g. rocker Chuck Berry according to Variety. Actress Gabrielle Union has been tapped to play Geneva Wade, the girlfriend/wife of Muddy Waters to be played by Jeffery Wright. The film centers around R&B magnate Leonard Chess (played by Adrien Brody) and the estimable 1950's Chicago R&B record label Chess Records (in the film transposed to Cadillac Records).
The cast also includes Cedric the Entertainer (Willie Dixon), Columbus Short (Little Walter), Emmanuelle Chriqui (Revetta Chess), Tammy Blanchard, and Eamonn Walker (Howlin' Wolf)

Beyoncé is recording four songs for the soundtrack and will also serve as executive producer of the project which is already underway and shooting. Darnell Martin ("Their Eyes Were Watching God") is the writer/director.