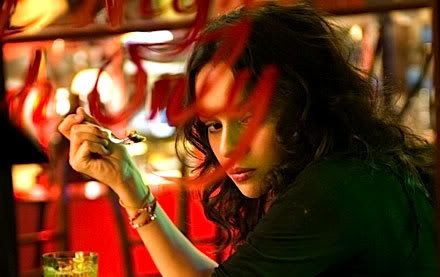 International directors making their American English-language debut usually yield mixed results. Sometimes they can be odd failures, but wonderfully unique (Antonioni's "Zabriskie Point"), infrequently they're flat out sublime and gorgeous (Wim Wenders' "Paris, Texas") and often enough, they're downright terrible (or highly troubled) with a lots of signature style and tenor getting sadly lost in translation (Walter Salles' very meh, "Dark Water," Alejandro Gonzalez Iñarritu's flawed "21 Grams," Jean-Pierre Jeunet's "Alien: Resurrection," etc.).

The great Wong Kar-Wai's U.S. debut, "My Blueberry Nights" unfortunately falls squarely into the terrible zone of things. Known for his sumptuous cinematography and his moody, poetic and lyrical takes on unrequited love, 'Nights' contains all of those characteristic elements minus the elegant touch, clumsily handled and pushed into the red. None of the masterful curves with which his films gracefully move along are there. Instead, 'Nights' feels like caricature of a Wong Kar-Wai film.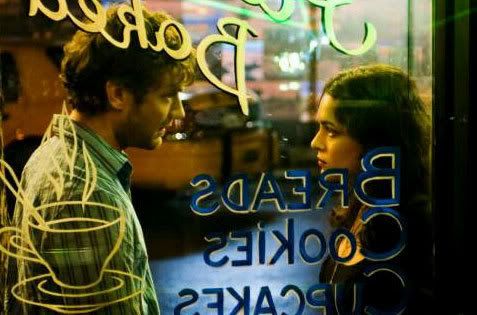 The plot, if one can even use that word, is mostly non-existent and meandering at best. A very insecure Norah Jones stars as Elizabeth, a young, pretty 20-something who randomly walks into a New York (Williamsburg?) diner/coffee shop owned by Judd Law. She realizes her boyfriend is cheating on her with a regular from the joint and after her anger subsides, she soon starts frequenting the place herself to enjoy late-evening conversations with Law that usually include the perennially under-appreciated menu item: blueberry pies (cue the groans). Their flirtations grow, as do the frequency of her late-night jaunts reminiscing over lost loves and experiences.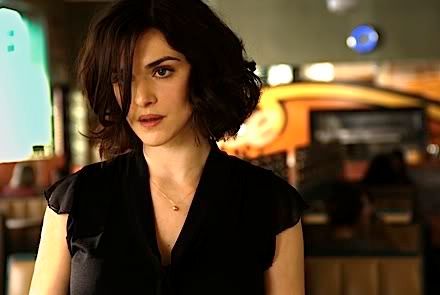 Just as their coquetry starts to blossom, she flakes and inexplicably takes off to Memphis. Jones' acting is tentative and unassured, but her character seems to have no trouble finding jobs in diners and bars in the River City. Soon she's at the axis of a broken down marriage between drunken police chief David Strathairn and his hot, floozy wife (Rachel Weisz) in the booze hole she works (both Strathairn and Weisz are horribly miscast, but the latter does play the part of hot rather surprisingly well). Starthairn pile drives his sorrows with a battery of alcoholic assaults every evening, Weisz cavorts with local young things and Jones acts as spectator sometimes acting as a shoulder to lean on for the lit-up lush.


As you might imagine, booze, jealousy and cops ends badly and Jones once again takes off this time for the random local of Nevada where she runs into the brassy and sassy gambling addict Natalie Portman (bad blond dye job and all). Portman convinces the struggling, now cocktail waitress Jones to put her savings into a sure bet that naturally goes sour. The risk-taking fiend hands over her luxury car, but not before taking one last trip in it to see her dying father.

Does this seem rambling enough for you? Eventually, Jones finds her way back into New York and sort-of back into the arms of Jude Law and his delectable pie treats. Sound trite? That's cause it is.

All the while the film is shot in an overwrought style of excessive color and smeared lipstick neon by normally-exquisite cinematographer Darius Khondji (who beautifully lensed Fincher's "Seven" and "Stealing Beauty" for Bertolucci). Wai's films are typically known for the gorgeous photography of Christopher Doyle, but without him, not only does the director seem lost at sea, the film's visual aesthetics almost play as a spoof of lush filmmaking their so overblown and overdone. A repeating motif throughout - shot in a stuttering, slow-motion effect - of oozing ice cream over top of blueberry pie means to represent a burning eros, but brought nothing but snickering from the audience we saw it with. The camera often from a distance, watches outside of windows with swirls of stops lights or neon glowing over the images and after a while it becomes sickeningly masturbatory.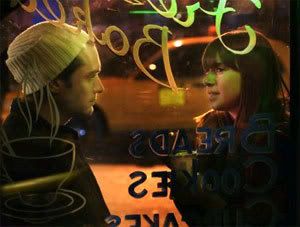 Sadly, the best scene in the film is left up to the movie's biggest acting amateur, Cat Power, aka Chan Marshall (whose music guides many of the New York scenes). Her brief, but powerful scene as Law's ex-girlfriend who pops in for a random visit to the diner is magnetically alive with a rush of conflicting emotions. The scene perfectly, sadly and painfully captures that moment when two ex-lovers who haven't seen each other in what feels like forever, see each other again - as if for the first time. They share the exciting flash of comforting recognition, the fleeting melancholy of what once was and the nervous electricity inherent between former flames when the spark hasn't quite subsided. It's a devastatingly bittersweet scene and does show off the enormous talent everyone working on the film possess, but it's all too brief and far too late.

"My Blueberry Nights" tries to be a sumptuous dessert of amour and lust, but ends up being an excessively gooey and syrupy overkill of melodrama and style. [C]